title:
Eunhyuk and His Yadong
pairing:
Most Yewook, some Eunhae too, Eunhyuk focused
rating:
PG-13 (PG-13 to NC-17 overall)
word count:
2,752
notes:
Eunhyuk is known for watching porn, but when he discovers something sexual going on between Yesung and Ryeowook in the dorm he finds something better than porn! But why is this suddenly affecting the way he feels towards Donghae? As Yewook fully explores each other, Eunhyuk can't help but want to do the same.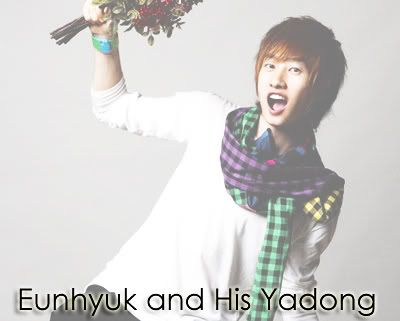 Eunhyuk woke the next morning with a thud, a pillow in his face actually.
"Yah! Hyung! You said you'd go to the gym with me!" Donghae was standing over Eunhyuk's bed repeatedly hitting a pillow to the blonde's face as he laid stomach-down on the bed. Squinting one eye open, the light coming through his window nearly making him blind, Hyuk looked up to the younger boy who stood over him with a smirk on his face and a case of serious bed hair. Only Donghae would pass out stinking drunk and be able to wake up as refreshed as a toddler before noon. "You promised!" He whined throwing a big pout in his face before pouncing on his butt, throwing the pillow on the edge of the bed, slapping his hands on Hyuk's back and pushing down.
"Oof!" Eunhyuk yelled as the heavy weight suddenly squashed him. "Alright, alright! Just get off me!" He turned his head around to look at the boy who was straddling him; he was still only in his boxers, Eunhyuk could see his flaccid dick poking out through the cloth on his thin underwear. Looking up at his face, Donghae's hair fell cutely over his forehead, a huge grin planted permanently on his face. Suddenly, Eunhyuk remembered last night. He was looking up at the face who just so happened to give him the best orgasm he's ever had in his life. Straightening up his back faster than he's ever had, Eunhyuk sat up, throwing Donghae off him who fell on his side, nearly falling off the bed.
Last night.
"What's the matter, sleepy head?" Donghae teased, leaning on one arm which flexed out his bicep; Eunhyuk couldn't help but stare at his smooth stomach and chest, amazed at how virtually hairless he is compared to himself. He looked away embarrassed when Donghae tapped his leg.
"N-Nothing." Hyuk lied. He couldn't look at him without getting shy, then Donghae touched him and he couldn't even speak.
What is happening?
Donghae furrowed his brow, Hyuk wasn't usually this unresponsive in the morning, no matter how tired he was, but he ignored his wary feelings. "Okay well, get up!" He threw himself off the bed standing at the edge, "we have to leave in fifteen minutes or else we won't be able to go, we've got a busy day full of schedules later." He turned giving Eunhyuk a perfect view of his butt, his boxers being a little too small so they snugged him in all the right places perfectly; each step he took his cheeks squished and his hips swayed. He went bopping out the room and Hyuk was left there by himself, finally able to collect himself. He ran his knuckles over his eyes, wiping away the sand and ruffling his hair; yawning, he threw his arms up wide for a big stretch, only to notice something else was stretching: his pajama pants.
Of course.
He didn't think it was even physically possible to get morning wood after the amazing cum he just had last night. Laying back down on the bed, he started to palm his hard cock under the covers, he didn't really want to jerk off but just the touch felt good enough to change his mind. Not really conscious of the environment around him, he began pumping slowly, not really working into a rhythm. He hoped Donghae didn't feel him become like this sometime during the night; he didn't even remember having a dream that could get him this way. He did one pump at a hard pace and winced, the pain from the intense friction he had last night was still affecting him so he decided to stop, pulling his hand out of his pants and, like the unhygienic person he was, he smelt it.
Just then, Donghae suddenly popped his head into the door again, "Hyung! Get up! We're gonna be late!" His voice now full of annoyance at Hyuk's refusal to get up. He walked away, leaving the blonde alone again, obviously not noticing the actions he was partaking in. Groaning, Hyuk pulled off the covers and stood up, glancing down at the tent poking out below his stomach, wondering if he could make it to the bathroom without anyone noticing. He walked over to the door and tried to listen to see who else was awake.
"KRY has that fan signing later but it's only for the first four hundred girls so it won't be that long." He heard Yesung say.
"Shouldn't you say fans?" Donghae teased.
"Do we have any fans who aren't girls?" Yesung joked and Eunhyuk could hear the two of them plus Sungmin laughing. Ryeowook and Kyuhyun must be out. He pulled his shirt down so it rested over her crotch to give him some kind of hide and then he walked out of the room fast to the bathroom.
"Yah, where're you going?" Donghae whined again, taking a few steps to Hyuk's direction.
"Shower." Was all Eunhyuk said before closing the bathroom door shut fast.
Hae let out a whine because of how late Eunhyuk was going to make them. "He just showered yesterday!" Hyuk heard Yesung say through the door, "I know what that means!" And the three boys all let out a chuckle. Of course they all knew, Eunhyuk doesn't shower as much as he should and they were men too,
cold shower.
Hyuk stood there for a minute or two thinking. Yesung was out there, joking about how all the girls love him and trying to sound prideful of it yet just last night Eunhyuk heard him having gay sex! His head was swimming as he tried to recollect his thoughts as to what happened last night but he thought it would be best not to think of it at the moment because honestly, he couldn't stand to think of what he did.
After a ten minute shower set on the coldest setting Hyuk could stand, he stepped out of the shower, freezing cold, flaccid, and once again, towel-less. Sighing, he bunched up his clothes in front of his crotch and this time not being hesitant, opened the door ready to walk at a normal pace to his room. Donghae was standing right there though holding a large pink towel, obviously Sungmin's, waiting for him.
"Forgot this again?" He threw it in his face and stepped away, "hurry up Hyung!"
Eunhyuk laughed at his cuteness and quickly wrapped the towel around his slim waist. Stepping out into the cold, he walked to his room and quickly got dressed in his gym clothes; he collected his gym bag with supplies and went back out into the living room to leave with Donghae. They exited, fifteen minutes late much to Hae's disapproval, and said goodbye to the other two.
In the car alone it was suddenly super awkward for Eunhyuk. Donghae kept trying to make conversation about random things like the weather, people, or new songs but Hyuk found it hard to respond to any of his questions. He was just still way too distracted about last night, it was so much to take in. Not just about Yesung and Ryeowook, but of his own doing; why did he think of Donghae right at his peak? And why did it make it so much better? He still couldn't answer it. When they reached the gym, they went in to do their own little routines. Eunhyuk couldn't bear to be next to Donghae while he was flexing his arms as he slowly pulled weights up and down, or when he was building up a sweat as he jogged on the treadmill, his perfect little butt bouncing to every step. Hyuk mostly ignored him the whole time, keeping watch of him in case he started heading in his direction he could quickly turn and pretend he was going to use another machine. A few people came up to him asking for pictures and autographs and he happily obliged to signing a few things but no pictures for he didn't look too presentable. Donghae proceeded to do the same all while Hyuk ran to the other side of the room, not wanting to be near him; just his smell was enough to make him recall the "face" of last night. After an hour they finished their workout, earlier than usual because of their tardiness to begin with and the both of them headed towards the showers.
As Donghae started to undress Eunhyuk had to look the other way; he could feel his blood boiling with every little move the boy was making here. He would never be able to last in the showers while he is there… naked, but he didn't know what else to do. What excuse could he possibly come up with to get out of it when they have already showered together countless times? Donghae made a high sign to him and left in a towel to the room; Eunhyuk stood there still fully dressed clutching his hair.
Omo, I don't know what to do.
Thinking over his options, he could just leave now, maybe say that he had a sudden stomach ache and it couldn't wait. Or he could say that he didn't want to shower in the public one because he was starting to brew a cold and he was scared it would just prolong it with the germs. Or he could just go in. Thinking, thinking, and thinking, Eunhyuk finally decided that in the end, he only had one option, he had to go in. Undressing his sweaty gym clothes and into a towel, he walked over to the shower doors and put his hand on the handle. Bracing himself, he took a deep breath in, reassuring himself that it'd be okay, and pulled.
Walking in, it was way too steamy to see anything, which he was completely thankful for, he didn't want to see any of Donghae. He quickly found himself a stall and started soaping himself like a madman, hoping to be done at least by the same time as Donghae so they could both leave instead of Hae lingering for him to done. He brushed his bar of soap over his abs, arms, legs, and chest, scrubbing like he's never done before. Not bothering to wash his hair, he started to scrub some soap on his face and rinsed it off, thankful that he was nearly done and he still hasn't seen Donghae. As the soap all over him washed away, he turned off the hot water, grabbed his towel and wrapped it around his waist. Two showers in a day, he's never done that before!
Running to the door, he was surprised that Donghae didn't go over and say anything to him, maybe he noticed he was acting weird? Stepping back out into the lockers, he was greeted with something that was worse than Donghae naked in the shower: Donghae naked in the locker room. He was standing there with his back to him drying off his hair with a towel with both arms, his tight butt jiggling back and forth and he scrubbed his hands threw his wet locks. Eunhyuk nearly toppled over, holding his nose as he literally felt a nosebleed coming on. He's seen Donghae naked before, but why was this so different? His cock suddenly twitched and he knew that this could potentially be bad.
"D-Donghae, c-cover up!" He yelled from across the room.
"Oh!" Hae said, removing the towel from his head and wrapping it around his waist, "I didn't see you in there Hyung, I almost thought you didn't shower!" His usual cheeky smile forming and becoming planted on his face. Eunhyuk just smirked and walked over to his locker that was across from Hae's. Donghae frowned at how unresponsive and cold he was acting towards him; Hyuk knew how mean he was being but he felt that if he gave him an sort of normal response while Donghae was standing there half naked, in a towel, and soaking wet, he might just pounce him on the spot. He stood there pretending to text on his phone while Donghae changed behind him; he tried to get his mind completely off the fact that he was naked again and also he didn't want to get changed in front of Hae and was hoping he'd leave while he was done. Sure enough-
"Hyuk, I'm gonna, uhh, wait outside, okay?" Donghae asked in a rather sad tone. He didn't know why his best friend was acting so mean but it couldn't have been for no reason, so instead of being mad with him he was concerned for what was happening. Hyuk nodded in his direction and Donghae sighed before exiting the locker room.
Eunhyuk felt he could almost cry. He hated acting this way but he had no other choice. These sudden gay feelings towards him were turning his insides out and he had a constant stomach ache when he thought of it. Quickly getting dressed as to not leave Donghae waiting, he threw on a new pair of sweats and a thick hoodie, pulling it over his head so no one would recognize him as he left. Nearly running out the door, Donghae had already pulled in front and was waiting for him, Hyuk got in the passenger and Hae drove away, neither of them saying a word.
The car ride was completely silent except for 2NE1's Ugly playing on the radio in the background, and the occasional shift Eunhyuk did in his seat uncomfortably. After the ten minute car ride which felt like a year they finally arrived back at their dorm. The boys parked and silently walked up to the building and into the elevator. As the lift rose, Donghae finally went with his instincts and broke the silence, "you know, if there's something wrong you can tell me, you know that right?"
Eunhyuk looked up at the face of his friend. He stared at it, something he hasn't done all day because every time he looked at it, it brought him back to his raging orgasm. His friend's face was deeply sad; Donghae always worried too much about his friend's troubles and Hyuk could tell that he was nearly dying on the inside from how Hyuk has been acting all day. Feeling regretful to his actions, Eunhyuk laughed a little at his stupidity, and looked down from Hae's face. "Everything is fine, trust me."
Donghae knew he was lying, but he knew Eunhyuk well enough to know that if he was going through something troubling than he would tell him no matter what. If he was holding back than obviously he was doing it for a good reason. "Okay." was all the younger boy could respond. As the 11th floor approached, Donghae wanted nothing more than to get off on the floor with him, to hang out together until their A-Cha performance later on Inkigayo, but he knew better. Hyuk turned and waved goodbye at him, barely giving any smile and Donghae just waved back as the elevator doors closed in front of him. Reaching the door to his dorm, Eunhyuk suddenly stopped. He remembered what happened the last time he entered through here, that word of "Hyung~" was permanently attached to his brain forever. Letting out a sigh, he walked through the door. Kyuhyun and Sungmin were the only ones home this time, Sungmin playing his guitar while Kyuhyun lazily played Starcraft. They threw him a quick hello before he walked right into his room and closed the door. Throwing his bag on the floor, something he never did in his tidy room, he plopped himself down on the bed and closed his eyes. He wanted nothing more than to just stay here and sleep forever, to not go to his schedule tonight, to not even leave his room. Before you know it, his eyes rolled up and he was fast asleep.
Chapter Five>>
Chapter Three