title:
Eunhyuk and His Yadong
pairing:
Most Yewook, some Eunhae too, Eunhyuk focused
rating:
NC-17 (PG-13 to NC-17 overall)
word count:
3,220
notes:
Eunhyuk is known for watching porn, but when he discovers something sexual going on between Yesung and Ryeowook in the dorm he finds something better than porn! But why is this suddenly affecting the way he feels towards Donghae? As Yewook fully explores each other, Eunhyuk can't help but want to do the same.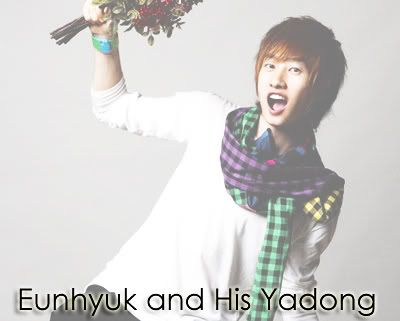 Eunhyuk woke to Yesung's touch this time, touching his philtrum that is. He quickly pushed his hand away, used to the creepy fetish by now, but mostly because he didn't want to be near Yesung after hearing him become a different person last night. "Time to go, Hyukkie." He said deeply before he turned to leave the room. Eunhyuk looked at his phone for the time and it was almost time to leave for Inkigayo, he was kind of annoyed at himself for falling asleep but even more that no one bothered to wake him up sooner. Sitting up in bed, he stretched his arms and yawned. Standing up, he walked out into the living room where everyone in the dorm was hanging around, waiting to leave in a few minutes. Hyuk walked over to the fridge and grabbed a water bottle, downing it fast, he hadn't realized how thirsty he was. After fifteen more minutes of everyone brushing their teeth, fixing their hair, gathering their supplies, all five of the dorm members left to head to Inkigayo.
Once they were there, they were all used to the routine by now. They all had to get their hair and makeup done, clothes on, and then wait around for what seems like hours before heading on stage. Eunhyuk looked around to see if Donghae had showed up yet but everyone else from the other dorm were here, Leeteuk and Shindong. Eunhyuk went up to Leeteuk to ask him, "Hey, where's Donghae?"
"Oh, he's here, he's just… I don't know, somewhere." Leeteuk said looking around. Usually Leeteuk comes in his own car so he doesn't pay attention to everyone else that much.
Eunhyuk wondered if it was Donghae who was avoiding him now, he was never one to be late to Inkigayo. After how he acted so cold to him, he would be surprised if he wasn't mad. Hyuk scratched his eyes in the confusion. "Eunhyuk-Oppa! Your turn!" His hairdresser called from the other room. Defeated, Hyuk decided to get his looks done and if Donghae didn't show up by then, then he would have to go looking for him. In the meantime, he decided to text him; if anything, talking to him through text was a lot easier because he didn't have to look at his face. 'Yah, where are you?' he sent. The hairdresser yanked his head up since he was looking down at the screen in his lap, Hyuk winced but it was the last thing on his mind. Was he just being paranoid? After a nice nap he had today, his mind was able to think clearly. He couldn't believe how much of a jerk he was to his best friend and over what, jerking off? He's jerked off loads of times, just because this time was different doesn't make him a weird person and he definitely shouldn't act that way to his friend. He wasn't even sure if Donghae was ignoring him and he felt absolutely awful; he could only imagine how Donghae felt today when Hyuk was straight up ignoring him. He felt like such a horrible person and the only thing he wanted to do was find Donghae and apologize. After about five more minutes of getting his hair straightened up, the hair dresser ushered him to another chair where another woman can do his makeup.
As she was rubbing the goop on his face he was getting anxious, because it was already twenty minutes after they got here and Donghae still hadn't shown or answered him. His eyes adverted to his phone every couple seconds, hoping to see a '1 new message' sign but it never showed. He began to scratch at his jeans, his toes were tapping, and his eyes were blinking more often then they should, which later proved to be a problem to the make up artist. As she finished up his black eyeliner and moved on to Kyuhyun, Eunhyuk darted out of the room. He thought he'd be overreacting if he called him, so he decided just looking for him would be okay. If Leeteuk said he was here, than he would have to at least be in the building, right? Walking fast up and down hallways, there seemed to be no sign of him anywhere. He even went as far as asking some of the other idols whether or not they've seen him and so far, he hasn't gotten a response. Hyuk thought that he might have been taking it too far, Donghae was a big boy now he can take care of himself, but the need to apologize to him was growing so great that it has become a mission to find him.
He entered one of the empty dressing rooms down a long deserted hallway; there was no one there but as he turned to leave he heard a faint noise in the closet. Growing suspicion, he walked over slowly to the doors, reaching out his hand he grabbed the knob, scared to find what could be behind there, if anything. He opened it with a jolt and saw a small mouse on the ground. "Aish!" He yelled, as he jumped and it ran into a hole under the carpet. Hyuk wiped the sweat off his brow, and let out a big sigh.
I shouldn't get scared over something like that.
He joked with himself. Just then,
click click click,
he heard footsteps scurrying down the hallway. Hyuk didn't know why he panicked, his heart was still racing from the mouse, but he felt he had a sudden urge to hide, so he jumped into the closet and closed the door. It had paneling so he could see out between the horizontal cracks.
Yesung came bursting through the door, dragging Ryeowook behind him. Slamming it once the younger boy was in, he threw him up against it and started ravaging him. Eunhyuk nearly choked, he couldn't believe was he was seeing, he was seeing what he heard last night! Immediately his cock started to tingle at the sensation of watching Yesung take control so much. The older boy sucked at Ryeowook's neck hard and all he could do was whimper at the touch that hurt but at the same time felt so good. Yesung's hands wasted no time as they ran down Ryeowook's front and then up underneath his shirt, tickling him with his soft fingers.
"Hyung, not… here!" Ryeowook's mouth protested, but his arms flung around Yesung's neck, pulling him deeper into the animalistic kiss he was giving his neck. All Yesung did was chuckle at his mini protest before moving his lips up to his friends. His tongue darted in, not waiting for entrance, and he explored the hot cavern of the smaller boy, his hands now pinching both his nipples, making his squirm against the door. Yesung broke the kiss and started sucking at his neck again, his lips slowly moving down his clavical as Ryeowook pushed him into his body harder with his hands tangled in his hair, wanting more and more of his delicious lips. Yesung moved his hands down to Ryeowook's legs, pulling them apart and lifting him off the ground, putting his body in between them so he held him against the wall securely.
Eunhyuk couldn't help it. He was half hard already after watching the pure rawness of the way they loved each other. He began to palm his growing cock on the outside of his jeans, rubbing the head through the thick fabric with his thumb.
"Hyung, we don't have time for-mmph" Yesung cut him off his another kiss. His fingers moved down and started to unbuckle Wook's belt, and all Wook could do was put his arms around his neck for better support as his tongue worked in unison against the other's, moaning as the organs danced eternally with each other. When it came to obeying Yesung, he had to do it, because if he didn't than he surely would get punished later for it, not that he minded. Eunhyuk's cock was growing so fast and he felt guilty for spying on them but the overall situation of him being locked up in the closet watching his two friends go at it was such a dirty turn on that he couldn't help but get instantly hard. He unbuttoned his jeans and took the zipper down, not caring about the sound because the two of them were loud enough to cover a tank rolling through. He grabbed his erect cock and pulled it out of his briefs and it winced in the cold. Once again, he spit into his right hand and started slowly pumping, his other hand grabbing his left leg for support. The feeling sent his head back for a second but he quickly straightened it to look through the cracks again.
Looking into the future, Wook can see himself getting plowed against the wall to no end, like Yesung has done here many times before, but he could tell Yesung wasn't in that kind of mood. He could tell Yesung was in a pleasure-giving kind of mood, and that only meant one thing - blowjob.
Yesung dropped Ryeowook back down onto his feet, and instantly dropped to his knees. He lifted the bottom part of his shirt up and starting sucking on the skin above his jeans. Ryeowook moaned and put a hand in Yesung's hair, pushing him into his body. Yesung's tongue was a professional in its own, it worked all around Wookie's lower abdomen, sucking on his protruding hip bones, and encircling his belly button. Yesung's nimble fingers moved up and unbuttoned Wook's jeans, ripping the zipper down, nearly breaking it, and then he pulled them all the way to the floor in one swipe.
Eunhyuk's cock jumped at the sight. His hand was already working at a fast pace, he didn't know how long he'd be able to last in here before cumming all over himself. As Yesung's hands explored Ryeowook's body, Hyuk tried to match it by placing his hands on himself. He slowly worked his left hand under his shirt and began rubbing his abs, before working their way up and squeezing his own nipples. His teeth were stuck in his bottom lip, it was such a struggle to hold back to moans he wanted to expel.
As Yesung sat in front of Ryeowook's cock, his tongue darted out to lick the outline of the member that was still clothed in underwear. Wook let out a loud moan, his dick finally getting some kind of friction to it; his one hand still in Yesung's hair while the other was up at his mouth.
"I wanna hear you." Yesung said deeply, "moan loud for me as I suck your cock." His fingers worked up to Wook's boxers and he grabbed the hemline. Eunhyuk started to pump faster, his excitement to see Ryeowook's cock hard was growing and he knew that meant Yesung would begin to suck it. Ryeowook took his hand off his mouth and grabbed the hemline of his boxers with Yesung's hands.
"Suck my cock, Hyung." He ordered, looking lustfully down at the older boy who kneeled before him. Obliging, Yesung pulled down his underwear, Ryeowook's hand over his, and his average sized member popped out in front of his face. Yesung's one hand grabbed onto Ryeowook's and he brought it up to his mouth, Yesung took one of Wook's small fingers and put it deeply in his mouth, giving him a preview of what's about to come. Ryeowook's moaned louder, bucking his hips slowly into Yesung's face, wanting so desperately his finger to be his cock right now. Eunhyuk put his own fingers up to his mouth and began sucking hard; he didn't know whether he wanted to be in Ryeowook or Yesung's position more right now.
Yesung released Wook's fingers and they found a way back to his hair; he slowly grabbed the base of his cock, earning a moan, and started to pump up and down slowly. Eunhyuk stopped his already fast pace and wanted to follow the pace his friends were doing which, at the moment, was painfully slow. Yesung breathed heavily over Wook's head, "You want me to suck it, you said?"
"Oh God, yes." Wook breathed out, the back of his head hitting the wood door and he kept his eyes locked on Yesung.
"I wanna choke on it." Yesung said, nearly whimpering. Ryeowook could barely stand, his hand pumped slowly up and down, but his mouth was so close to his head yet it wasn't on it.
"Oh God, please!" Ryeowook nearly begged, pushing Yesung's head down to hopefully get his lips to at least brush against his aching member that was mercilessly leaking precum, "please choke on me, mmm." Yesung leaned foreword, his mouth in an O shape as it hovered dangerously close to Ryeowook's cock. Eunhyuk could barely stand it himself, he wanted to jump out there and shove his face in Ryeowook's crotch himself. Yesung finally took the whole head into his mouth, his hand still pumping. Ryeowook clenched his eyes shut in ecstasy and threw his head up. Eunhyuk still sucked on his fingers while he pumped his cock slowly, wanting to join them so bad.
Yesung wasted no time bobbing his head up and down Wook's shaft, his hand working in the same rhythm, while his other hand squeezed and massaged his balls. Ryeowook was already a wriggling mess, he could feel himself starting to build to his orgasm already, but that was because of Yesung's amazing head giving skills. Yesung worked his tongue on the underside of the shaft, lapping the head like a dog every time he bobbed back up. He twisted his hand every time he pumped the cock down, as the get all sides of Wook's cock at once. The spit was building rapidly and was already sliding down Yesung's chin, providing great lubrication that Eunhyuk wished he could get a part of.
Yesung pulled his face away from Ryeowook, still pumping him even faster now, as he looked up and gave him a lustful eye. "Fuck my mouth, baby." He said deeply, and like they've done it a million times before, Ryeowook immediately tightened his grip on Yesung's hair and started to rub the head of his cock on his lips. Wasting no time he arched his hips and slid his dick into the hot, wet, cavern that welcomed him. He started thrusting in and out at the same pace Yesung left off with before, and Eunhyuk perfectly matched his thrusts with his own, moaning silently to himself over the hotness of Ryeowook fucking Yesung's head. Thrusting in and out to the hilt, Yesung started to choke on the cock that was ramming into him. With each thrust, more spit regurgitated from his throat, making the lubrication in his mouth even better, causing Ryeowook to thrust even faster.
Eunhyuk was pumping at his member endlessly now, faster than Ryeowook's thrusts, but he couldn't take it anymore. Even though he spent the whole day whimpering about what he did the night before, suddenly he is doing it again with no regrets. It's like when a husband cheats on his wife but doesn't mean to, the whole time he's physically doing it, he has no conscious thought of right or wrong because it feels so good, but he knows he'll regret it after.
Ryeowook was slamming into Yesung's face now. Yesung emitting a gagging noise with every hard thrust, his hands finding a way up to Wook's hips to help guide him in and out. Ryeowook was so close it nearly hurt him, his head was permanently facing up and his fingers seemed to be attached to Yesung's head. Moans never stopped escaping from his mouth as he got good practice for the show later. Thrusting faster than ever he knew he was close, too close. Eunhyuk could tell too, for Wook's toes began to curl in his shoes and his grip tightened, and Eunhyuk was grateful because he didn't think he could hold himself back any longer.
"Ye…sung!" Ryeowook moaned out, his thrusts powerful with every one. Yesung loved hearing his name, even in his choking he started to hum onto his cock, which send Ryeowook right over the edge. "Yesung!" He screamed, louder than he should have in public, as Yesung grabbed his hips and pulled him all the way into his mouth, feeling his hot liquid spilling all over the back of his throat. Eunhyuk came not a moment after Ryeowook, but it wasn't him that sent him over the edge. Once again, Donghae popped up into his head, and when you're so close to your orgasm, your conscious thought escapes you. Donghae flooded his mind, and he let it happen. This time he was shirtless, touching himself, instead of just his face like last time; Eunhyuk came hard onto the closet door, harder than he's ever came before. The ringlets of cum never seemed to end as they spilled out as he let his low moans escape his mouth, enjoying his ecstasy too much to care if he got caught or not. Donghae was still in his head, Eunhyuk knew it too but didn't care, his orgasm was so good that if he came to a picture of the Pope he wouldn't of cared.
Ryeowook slumped against the ground as Yesung began to kiss him hard, Wook tasting himself on Yesung's mouth, only turning the boy on even more. "Come on, we need to go," he said.
"But Hyung, what about you're-" Ryeowook pointed to the huge bulge in Yesung's jeans but Yesung waved him away.
"I'll just act like it's my everyday bulge, everyone knows I have a big cock." Yesung said with a wink. Ryeowook moaned at the thought of Yesung's huge cock and the fact that he wanted to so badly suck him off right now, or have it plow into his butt until no end, but Yesung wanted no part in that. Some days he liked to receive, but most of the time, Yesung was a giver and a giver only. He stood up, pulling the shaking, trembling, slump of a boy with him. Helping him pull up his pants, they fixed each other up before slowly exiting the room, Ryeowook still having difficulty walking.
Eunhyuk slumped down in the tight closet space. He couldn't believe he pictured Donghae's face again and got an even better orgasm. Eunhyuk might just have to admit it: he might have a thing for the Fishy and if keeps getting him orgasms like this, he could just give up on porn forever.
Chapter Six>>
Chapter Four