title:
Fallen Angels
pairing:
Onkey
rating:
PG-13
word count:
8,317
notes:
The year is 25,056. Seoul is nothing left but a desert wasteland. After all of the Earth's resources vanished, the weak humans developed into thirsty, blood sucking cannibals, feeding on the live ones. Their way of life turned into the largest underground society ever made, known as the Hebolgwi. (pronounced "Heh-bowl-gwee") To make sure these Vampires don't attack humans, the whole Earth is guarded by "Fallen Angels" which are quite literally, Angels from Heaven sent to protect the Earth. However, just because you are an Angel does not necessarily mean you are good. Lee Jinki is half Vampire, half Angel.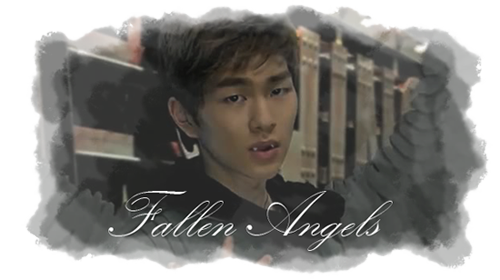 Lee Jinki is not a Fallen Angel.
Lee Jinki is not a Vampire.
Humans in the world never thought that their constant resource use and abuse to the planet would actually cause ultimate destruction in the end; everyone just figured that they wouldn't be the ones alive to see the world fall. No, it did not blow up in 2012, and no year after that. It is the year 25056, and through some sort of miracle, the Earth is still standing. But just barely.
The only places on the whole planet that has something other than desert are the major cities that were once thriving, full of millions of people, and alive; New York, Tokyo, Seoul, London. Each city contains no sky scrapers, no buses, nothing like how it once was. The Earth started to crumble after all the fresh water ran out, by that time humans have discovered an easy fool proof way to convert salt water into drinking water. For hundreds of years, this method worked without consequence, until naturally the sea level started to fall. Fish were beginning to grow crowded in their water and started dying more often; this released many more chemicals and toxins into the water, something the humans had not figured out how to take out. When the people started to get sick, the leaders of the world scrambled to find ways to keep everyone healthy; the only way was to make people stop drinking water, but then they would all die of thirst. It was a lose-lose situation, and everyone started to die.
There are only on average about 20,000 people left on the planet, all divided up into the remaining cities. Every person lived in fear, for over the course of time, evolution took its place on Earth. People who were dying of thirst found new means to quench their growing dehydration; they filled their stomachs with anything that was in liquid form. Eventually, the toxins that thrived in their blood started to affect their psyche, their body, and most of all, their needs.
It is unclear in history just who was the first person to drink someone else's blood to quench themselves, but as soon as someone figured it out, it was all downhill from there. Everyone started to do the same, growing into blood thirsty cannibals; people were decreasing by the minutes, but anyone who had drunk someone else's blood was fine. Eventually over thousands of years of evolution, the human body started to develop to rely solely on human blood; the Vampires could drink each other and be moderately satisfied but nothing tasted sweeter than pure human. The number of Vampires outweighed the humans, there were no more leaders, no more control on society at all; the night walkers wreaked havoc and killed any human they could come in contact with.
The Vampires were not the typical ones you would read in story books, although they did possess a lot of the same qualities. Biting a human would not turn them into one, but it would definitely kill on contact. Vampires only came out at night, or usually just when the sun wasn't the highest in the sky, otherwise the vitamin D would burn the surface of their skin. They didn't sleep in coffins, actually they never slept at all; the constant darkness and lack of real nutrition morphed them to not need to recharge themselves. They bared fangs, sharp enough to pierce the surface of the skin but just short enough to sit comfortably in their mouths. Their skin was pale white, so pale it was near a stone color, it was always cold until they drunk the blood of a human, then it was so hot it burned through clothes.
Eventually, the Vampire society grew so large that some of them began campaigning to become the ruler. After years of arguments, fights, and murders, Lee Soo Man became victorious in the end. He ruled from Seoul, his country of origin and he established the society to be known as the Hebolgwi; over the years, he put all the Vampires into work, turning the underground tunnels, subways, and railways in the remaining cities into houses, shops, and life. All the Vampires moved from the houses they were hiding in above ground to the new system that was growing underneath them. Seoul had the largest and most developed system yet, mostly because Lee Soo Man was greedy and wanted his city to have the nicest things, but as stingy as he was, he wasn't stupid; he knew that humans died instantly with every bite from a Vampire so he established a law, the first law, that Vampires are strictly forbidden to bite humans.
Most Vampires obeyed this rule, their society and each other's blood were satisfying enough to survive on, although the rebels of the society would purposely sneak out of the exits of the Hebolgwi to find starving, thirsty, and weak humans who walked the ground above them. Lee Soo Man was fed up with this constant rebellion, after thousands of years of the Vampires causing ultimate destruction he wanted the world to have an order to it. Mustering all of his abilities as the leader, he called upon God for help. He prayed to the Ultimate Leader of the world for help, to help the humans still live after everything the Vampires have done to them. God answered his pleases, took a pity upon the man who ran the world that God has made, and He decided to send some of His own Angels to Earth, the first time ever they would be revealing themselves in such a way.
The Angels were beautiful, complete opposite of the Vampires in just about every way possible. Their skin glowed, in the dark society underground they were like a light bulb that was turned on, but they did not hurt the Vampires; the Vampires were very grateful to be able to see light without hurting for the first time in thousands of years. The Angels had a golden halo hovering above their head and white wings that spread wide from their back, when they weren't in use they were folded in; feathers strategically placed so they would never fall off but when they did, it was almost worth more than human blood.
For a while, the Angels did what they were supposed to; guarding the exits of the Hebolgwi and preventing any Vampires from leaving and no human was killed for many years. After some time, human life began to grow, they were still not living comfortably though; there was eternally no food or water, and many humans decided to just give up their life of pain and went to the Hebolgwi to get bitten. With these constant suicides, Angels started to feel as if everything they were doing there was just a waste, humans were dying anyway. After a while, Angels became so used to the life that they were living there that they decided they didn't want to fulfill their duties anymore, they left God and joined the Hebolgwi. Angels lost themselves, becoming just as bad as the Vampires; constantly gambling, hooking, and taking any drug they could get their beautiful fingers on. It wasn't long before Angels and Vampires started to mate, when the first Vampire girl got pregnant no one knew what the end result would be, but eventually the baby died in the womb. After many experiments, an Angel woman got pregnant, the first time ever for Angels; new Angels were not made through pregnancy, they were created by God only. The baby was born alive, but much disfigured; its wings were black, it had human colored skin, and bared longer-than-normal fangs. Vampires and Angels were all surprised over its appearance but kept it in the society to see how it would act when it grew; many other Angels began to have babies with their Vampire lovers as well, seeing that it was physically
possible.
Only about two in ten births ever went through smoothly, all the others died within the womb or were stillbirths. When the half Angel-half Vampire babies grew up, many were excited to see just how they acted and how their powers worked. Even though they were Vampires, the sun had no effect on them and they did not need to rely on blood to live, just like Angels. However, once they bit someone for the first time, from that moment on they would only be physically able to bite that same person; they didn't necessarily need to keep biting them, but the pleasure they received when they did was so great, it was like ecstasy. The halves began to rely on the Vampire companions they would bite, many thought of it as a beautiful love story, but most saw it as just a burden. In a society that was so unstable, there was no time for anyone to rely on someone specific; thus, naturally, the halves were viewed as vile, needy beings with no real purpose to exist in the Hebolgwi.
Lee Jinki was one of them.
~♥~
As Jinki sat on one of the corner streets in Hebolgwi, his mind was blank with the mindless task of people watching, or Vampires actually. They moved as normal people though, it was just like regular society that used to exist on Earth only it was completely underground and dark. Since Jinki was constantly under here, in fact he has never left, his eyes have completely adjusted to the darkness. If someone were to come in from the outside world above they would only see darkness, and Jinki figured if he were to step foot outside into the sun his eyes would probably burn out of their sockets. The Vampires wandered aimlessly around the town, going into the countless number of clothes and merchandise shops; there were no restaurants, cafes, or diners for no one ate. Jinki's wings were tucked in on his back and he had a loose black hoodie on to cover them up; if anyone saw that his wings were black they would probably curse at him and some may even throw stones, it wouldn't be the first time.
In this place, he was an outcast. He had not one single friend, his parents had abandoned him, and he lived completely on his own, not that he had anywhere to live. His endless nights, if you would call it that since there was no sun to rotate, were spent laying in street alleyways or parks; the alleyways were nice because no one would ever see him and he was alone to be himself and spread his wings, literally. The parks weren't so nice; there were no grass, no trees, just a huge patch of dirt with a few benches and maybe a swing for the younger Vampires. His days were spent just like this. There wasn't much for him to do, it's not like he had to look for food or water, and the only books or movies that still existed were kept solely by the richer side of town and the ones sold in the store were worth way more than he could afford. He was too scared to talk to anyone, afraid that they might notice his human colored skin or a piece of his wings sticking out from behind his hoodie, so he was always alone no matter what.
Throwing his hands up into a stretch, he yawned, even though he didn't have to sleep it was something to do since he was still physically able to. He contemplated about whether or not to find a place to rest but figured that would be more work than what he was doing now, which was quite literally nothing. He watched a Vampire woman cross the street clutching her daughter's hand; it creeped Jinki out to know that Vampires could reproduce and create more and more disgusting creatures. Vampires in his eyes were probably the worst thing you could ever be.
All they did was go through life always wanting to kill, always needing something they can never have. He was not the vile one, they were. If he could choose between an Angel and a Vampire, there was no doubt in his mind just who he would pick. Vampires were dirty, dark, and cold while Angels were light, beautiful, and graceful; they were not all good though, Angels were incredibly susceptible and obviously very foolish. It was rare to see an Angel walking on the street like a Vampire, since there was only a handful they were the celebrities of Hebolgwi. Jinki still doesn't know who his mother is, and just by living here he could name all the women Angels off the top of his head and it sort of scared him how one of them gave birth to him. He had absolutely no idea who his father was, and why his mother would
ever
want to make love to a disgusting Vampire. Honestly, he didn't want to know his dad, he had no interest in ever being his friend.
He reached into his pockets and pulled out his pack of cigarettes; if there was anything Vampires knew how to do right, it was make stuff out of nothing. This whole society and the unlimited number of merchandise and stuff in it was all made during a time when you couldn't even find water to drink. Jinki lit one up and breathed it in for a long time, feeling the familiar sting in his lungs as it reached them, and breathing out long and dragged, watching the light smoke quickly break up into the air around it. He held the stick between his two fingers, wishing that it did more to his non-human body than it did, and flicked the extra ash off the top and onto the pavement.
"Excuse me." Someone said behind him.
Jinki slowly turned around, putting the stick between his lips and breathing in once more. He noticed it was a Vampire boy, about his age, so he decided to not acknowledge him really; he turned back around to face the street once more.
The boy took this as a sign of acknowledgement however and said, "Is this where the pickup is?" Since there were no cars, trucks, or buses in the Hebolgwi (no gasoline to run them) Vampires got around through pickups. A working Vampire walked around dragging a cart that other Vampire would sit in and when they reached their destination he would stop and let them off. Angels did not use this because they just flew to wherever they had to go; it always made Jinki's day when he would look up into the sky and see a glowing bird above him, wishing so much that he could be one of them.
Jinki shrugged at the boy, wanting him to go away desperately, and he took in another drag of his cigarette.
"Those will kill you, you know." The annoying creature said behind him.
Jinki sighed heavily and stood up; not looking at the boy he turned and started walking down the street away from him.
This'll kill me?
He laughed inside his head. Being half Angel, Jinki had a possible chance of being immortal since all the Angels were. No half breed has ever lived long enough to grow old to see if this was true or not because they always got killed when they were young. Jinki was rebellious because of this, he figured he didn't have much time in this place so why not just do what he wanted.
He reached the other end of the block and sat down on this corner. Glancing at his clock, it was close to about nine-ish at night, he hadn't realized it was so late; soon all the Angels that still practiced God's Will would come out to guard the exits from the Vampires who still tried to escape to feed on humans when the sun was down. It was Jinki's favorite time of day.
He finished up the last of his cigarette and shoved the burning end into the ground, crinkling it. Jinki let out a long sigh, throwing his head back to look straight up; far, far above him was the Earth's crust that covered them, their society was quite literally
underground.
He closed his eyes, waiting for the oh-so-familiar
pang
of the city bell that would ring, telling all the Vampires that it was time for the Angels to take their place. Jinki wondered if his mother still practiced as an Angel; sure she went off and fucked a Vampire but that doesn't necessarily mean that she gave up her rightful duties. Jinki rolled his head around on his neck, still keeping it thrown back, and he let out another pitiful sigh.
"Oh you were right!
This
is where they pick up, duh!"
Jinki cringed at the familiar voice that echoed above him. He opened one of his eyes to look at the Vampire boy from before standing right over him; he was leaned over so that his head was not even a foot away from Jinki's.
"It's every
other
block; I don't know why it has to be so confusing right?" When he talked, Jinki could see his fangs protruding out from behind his lips. If he spoke a word to this boy looking at his face, he would surely see Jinki's longer than average fangs and probably be able to guess that he was a half. Jinki just shrugged and faced his head forward again; he wanted to be alone to watch his idols go to the two exits of the Hebolgwi (one of each side of the large city) so he could be free to wish and whine all he wanted.
The Vampire boy was persistent though, as they usually are, "Good thing you showed me it was over here," he sat down on the curb next to Jinki, "I would have been waiting over there and watch it pass me by." He laughed out the last few words.
Jinki glared at him, didn't this stupid Vampire realize that he only wanted to be left alone? Jinki turned his head away from him so he wouldn't see his fangs, "Yup." He said bluntly.
The Vampire still didn't notice, or didn't care, "Name's Key, what about you?" Jinki closed his eyes, was this boy really introducing himself now? Why does he want to be friends?
"Look, I-" Jinki was about to start telling him off, about how someone can't just walk up to a random person and start a conversation and end with being friends, but he was cut off by the pang of the bell in the center of town. He jumped to his feet, the last thing he wanted to do was watch Angels with a
Vampire.
He once again walked away from the other boy, this time a little more hastily, until he got a block and a half away from him. He stood on the sidewalk, behind him was a hair salon, and he looked up into the sky waiting for an Angel to soar by. Sure enough, in the very distant exit, he could just see the outline of a glowing figure making its way up to the cave that sat in the side of the ginormous dirt wall, inside the cave was the doors leading out, the doors that haven't been opened for years. Jinki sighed, it only lasted about a moment or two, and it was always so far that he never saw anything up close, but it was his most favorite thing. He wished to be an Angel more than anything in the entire world; sure, he was half Angel, but he did not look like one or get any respect like they did. Jinki ran a hand through his hair as he saw yet another glowing figure flap its long wings up to the cave; his fangs clicked against his bottom row of teeth, the sound sending a light shiver through his body.
After waiting for another minute or two, he decided that no more Angels were going to fly up; their numbers were really decreasing, it was surprising how many Angels didn't want to perform their duties when Jinki would
kill
to take their place. He turned and began to walk down the street, desperately wanting to turn and glance to see if that Vampire named Key was still waiting at the street corner for the pickup but deciding against it in case they would make unwanted eye contact. His steps were slow, he was practically waddling, with no real destination in their movements. His wings were beginning to cramp up, it was about two full days now that they haven't been released from the confines of his hoodie and allowed to stretch and after watching those Angels fly freely, they suddenly felt ten times worse. What Jinki usually did was find a nice deserted alleyway to hide in, like he normally likes to do, and just let his wings loose for a minute or two; he would flap them and maybe hover in the air for a second, but no longer than that because the alley was small and his wings couldn't flap all the way so they would smack hardly against the two walls he was between. Sometimes, if he was in a semi-good mood, he would run his fingers through the feathers to get some of the excess dirt off and to feel the extreme softness they possessed.
Jinki walked for a couple blocks, turning at some corners here and there, before he came upon a familiar sight: one of the many alleyways he has dubbed to be safe because it was so deserted. Looking around to see if anyone was watching, and when he established that no one was, he stepped in to the tight squeeze and walked until he was about halfway through it; he could see the street on the other side but that was also completely deserted. He grabbed the hem of his hoodie and pulled it up over his head, it messed up his hair as it squeezed around his head; immediately he let his wings fold out. He heard cracking in his back where they were attached, and it hurt to stretch them. The cold pressed against his bare skin, he wore no t-shirt because every one that was made for an Angel, holes in the back for wings, was extremely expensive because everyone figured every Angel was rich. Everyone always forgot about the halves.
His body shivered as the overwhelming feeling of freedom washed through him; he threw his head back so his face looked up, eyes closed, as he stretched his wings as far as he could, one wing stretching to one street and the other to the other street. He moaned aloud, he could practically feel each feather flex and move as he spread them further and further apart. After about a minute of ecstasy, he relaxed his wings; if they were to sit naturally, they would fold anyway but still be loose, his hoodie made it so that they were squished together and tucked in on every end. He lingered for just another minute or two, wanting nothing more than to throw the hoodie away and never put it back on, but figured he should because it would be best. He got one arm through a sleeve before-
"Hey!"
His heart dropped to his stomach. For a moment he thought it was Key bothering him again, the first person to even talk to him in weeks, but the voice was so much lower; dreading it, he turned his head to the side to find three men Vampires standing at the end of the alleyway looking at him. Jinki was completely frozen in place, his arm sticking out in the hoodie that hung off of it, his
clearly
black wings folded behind him.
"Are you-" The man began, he was tall and fat, a beard played across his chin; his two friends were about average looking, and all of them wore construction vests. The man never finished his sentence but instead looked at his two friends and let out a
'huff.'
"Hey boss, I think those are one of those half things!" The one friend said, obviously too stupid to comprehend any given thought in his meek life.
"Well
duh
, moron!" The other friend said, smacking his near twin upside the head, the victim wailing for a moment.
Jinki took this opportunity of them being distracted within themselves to throw on the rest of his hoodie; his wings were so long on his back that the bottom of them stuck out of the hem. The three men took a few steps closer, Jinki stepped back, feeling obviously very threatened.
"Where're you goin' sweet cheeks?" The big man asked. Jinki wondered for a second if they thought he was a girl but then realized that his whole shirt was off and that they were just being jerks. He thought maybe that handling this in a professional manner would be the best option.
"Look, I don't want any trouble."
"Just your existence is trouble!" The smarter friend said, throwing a hand into his pocket which made Jinki jump. They were still about twenty feet away, and it most likely wasn't a gun since those were extremely hard to come by.
Jinki took a few more steps back, "I'll just walk away and you can forget all about me, how's that?"
"I could forget about your face, but I don't think I'll ever be able to get that putrid smell outta my nose, right boys?" The leader gestured his head to his two friends who made grunts in agreement. Jinki was scared that they would try and bite him, he has never been bitten by a Vampire before and he surely didn't want his first time to be with these three gross ones. Honestly, he
never
wanted to get bit.
Jinki turned and started walking away, "I'll just be going." The leader started walking towards him in long strides.
"Oh you're not going anywhere, half!" He reached a hand out and grabbed Jinki's hoodie right where his shoulder is and pulled him closer to his face; Jinki's feet slid out from under him and he let out a slight whimper. "You're mine now!"
"Come on boss, I wanna taste of the half too!" The smarter friend whined, the dumb one just stood there and stared blankly at the scene in front of him as if it was a movie instead of something actually happening.
Jinki could easily take these three guys, Angels had strength that outweighed the awesome strength of Vampires, but he really didn't want to cause a scene to make more Vampires come over. He thought for a second that this is probably how all the halves before him died, a Vampire would discover their secret and cause a big commotion, and then the Vampires would get together and kill it.
The only way to kill an Angel is to rip its wings off.
Jinki pulled his wings tighter together against his back, wishing that they could just disappear into his body. "Please, just let me go and I won't bother you!"
The bearded man laughed, his gut bouncing up and down with each holler that escaped from his lips. "It's our job as Vampire citizens to make sure that freaks like you don't walk around here anymore!"
Jinki winced at the word 'freak,' it was the exact same thing he used to describe them.
"Come
on
, Boss! My mouth is drying up over here!"
"Shut up!" The leader yelled at the follower, turning his head. Jinki used this split second opportunity to yank himself out of the Vampire's grip; he turned and started running down the alleyway away from them to the deserted street before him. Suddenly, the smarter one dropped down in front of him, that's the thing about Vampires, they're much faster than Angels on foot. Jinki slid to a stop, if only he could use his wings to fly out of here, but he couldn't because then more people would see that he was a half. He panted for a moment or two, catching his breath; the follower before him chuckled out loud, his fangs glistening in the night, anxiously waiting to pierce his skin.
"Don't! I get the first taste!" The leader yelled, coming up behind Jinki and grabbing his hoodie again from the back.
"Then bite him for Christ's sake! Or I will!"
"Shut
up!
"
Jinki's head was spinning from this useless fight, if he had a say in it then he would suggest neither of them bite him to save them the trouble of arguing. His mind toned them out as they went back and forth between each other, thinking of new ways to escape; the dumb one walked up to stand next to the leader, still staring off into space with his mouth wide open.
"This
always
happens with you!" The leader yelled back at something the other one said that Jinki didn't pay attention to. Their stupid argument was growing and Jinki was actually glad that they were distracted by something other than trying to eat him, although he wished that something wasn't who would eat him first. The dumb one mouthed something under his breath and the leader pushed him into the wall, making him whimper; the smarter one yelled loudly at him for this, something about how he pushes them around. This seemed to get the leader very angry, in a spurt of rage he shoved Jinki aside, releasing his hold on his sweater, and walked up to the follower, yelling in his face. Jinki laid on the ground and looked up to the two fighting Vampires in front of him, it amazed him how their temper built up so quickly, but that was just a typical Vampire. He was practically frozen in place, his adrenaline was built up so much that he couldn't form a coherent thought except for that he was probably going to be drunk from tonight.
"Psst, hey!"
Jinki turned around to see Key, the Vampire boy from before, standing at the opposite end of the alleyway where Jinki entered, waving his hand to come to his direction. Jinki blinked hard for a few seconds, contemplating whether or not to trust him, after some thought he figured he would considering Key
had
to have been better than these three blubbering idiots, before crawling away for a few feet then standing up and strolling in Key's direction. He glanced back every couple of seconds to make sure they were still fighting (fists now being thrown) and noticed that the stupid follower was watching him but not saying a word. When he reached Key, Key just grabbed the fabric on his arm and pulled him out of the alleyway and started heading down the street; they walked about a block in complete silence before Key let him go, looking back to make sure they weren't being followed.
"Pfft, stupid morons." Key muttered.
Jinki used this time to take the bottoms of his wings and tuck them into his hoodie, it hurt to crunch them up like this but he didn't want to have any more Vampires to see who he actually was. He felt Key's eyes on him the entire time, wondering if he was going to start yelling at him too or try to bite him; once Jinki was fully settled in, he looked at Key and nodded, sending him an inaudible 'thank you.'
"You know, looking at you now like this, I think I was so
stupid
for not seeing that you are a half before." Key waved his hand up and down in front of Jinki.
"Umm, yeah." Jinki replied, it was so awkward talking to a Vampire that was actually being nice to him.
"We should keep going before they realize you're gone," Key said turning and walking away. "Follow me, I got a great place."
Jinki huffed at this statement,
yeah right
like he was
ever
going to go into a Vampire's house; getting away from those guys was a good idea though so he turned and started walking in another direction than Key. It took the Vampire a few seconds to realize he wasn't being followed before he turned around.
"Hey!" He yelled, "I'm not gonna bite you, wouldn't it be better to come with me then wander the streets with three Vampires looking for you?"
Jinki stopped in his tracks, his back to Key, his logic was true but it was still very fishy – why would a Vampire invite him over if not to just bite him?
Jinki turned towards him, "Look, I just wanna be left alone."
"And you will be, by
those
guys, if you come with me!" Key smiled as he said this. For the first time, Jinki looked into his eyes. They were so…
pretty
. Cat-like, they pointed up at the corners and long eyelashes curved out from them; his nose normal, and lips pouty as can be: they came to two sharp points right below his philtrum, making his features look almost girl-like. His hair was cut straight across his brow in a bowl cut, it was black except for the top that had red streaks flooding down his head; his ears had several earrings in it, religious ones like crosses making Jinki wonder if he practiced with God in any way.
Jinki studied his face hard, the expression Key had was warm and inviting but he was still a
Vampire
. In the end, he decided against his own pessimistic ways and started walking forward. He could tell Key felt smug about winning him over but honestly the only reason he was going was because he was actually being invited. He didn't know how to react in a situation like this, he's never been invited to anyone's house before and just the thought made his stomach get butterflies. His whole entire life he has been alone with no friends: he didn't go to school, he had no house so he wasn't playing with any neighborhood kids, and this would be the first time ever. Jinki was surprised at how easy it was to just agree to go over someone's house, he thought that if he ever got the chance then it would be a little harder for him to accept it but there was just something about Key's face that Jinki got sucked into. Plus, Key did kinda sorta help him; he probably would have still been laying on the ground watching the Vampires fight if Key didn't gesture for him to follow him out of there.
Key turned and started walking again with Jinki following him, glancing back to check the alleyway to see if the ugly Vampires came out of it or not (they didn't), and watching him walk. His legs were thin, Jinki could easily see the outline of his legs because of his super tight pants he wore. His eyes moved up and he couldn't help himself that he noticed just how perfect his butt was, each cheek squeezed when the opposite leg took a step forward; he wore a light sweater that was also tight on his body, a typical teenage Vampire style. Jinki looked down at his own style, a very large black hoodie that hid every part of him, and regular shaped jeans that had holes in them for being so old; both of these items of clothing he got in dumpsters of Vampire houses he would raid.
The two of them walked for quite a while (Jinki behind Key, not daring to walk on his side) before they reached a very old and abandoned looking building; the location was pretty far off from the main city but it was still very busy where they were. It was completely dark inside, the dirt outside was churned up, clumps of it lied everywhere, normally the dirt everywhere was completely packed down from Vampires walking on it but this was as if no one has ever stepped foot on it.
Key walked up to the front door without hesitation, Jinki was frozen on the sidewalk, suddenly realizing this was a worse idea than he thought. "Actually, I think this isn't gonna happen, sorry." He blatantly said.
Key giggled, his hand on the door handle, "I can see your freak fangs from here."
Jinki furrowed his brow, "You drag me here then insult me?" He turned and started to walk away, steam practically coming out from his ears at the word 'freak' that was just used on him for the second time that day.
"I didn't see any rope," Key giggled again, "You didn't
have
to come." He opened the door and it creaked loudly, Jinki turned to watch him to see if he was going in without him but he just stood in the doorway smirking at him. Once again, he was drawn in by his face. He could easily walk away… but he didn't.
"You know," Key began, "I can make a shirt for you if you want! I noticed in the alley you don't have one. It'll take a second really, I'll just cut holes in the back of one of my old ones."
Jinki couldn't imagine Key having
any
tools in that deserted house to help him with clothes, but the offer was amazing to him. New clothes? Ones that actually fit? It sort of made him suspicious however, why would a disgusting Vampire be offering to help him? He huffed, "It's okay, but
thanks.
" He spurted out sarcastically.
Key shrugged, "Suit yourself," and walked into his building, closing the door behind him.
Jinki watched him do this and was a little surprised: for someone that made such an effort all day to talk to him and to get him to interact with him, he was quick to give up. It made him angry actually, all of this time was wasted, although he
did
help him in a way. Jinki sighed out loud. He honestly didn't want to walk away but he couldn't see how he could stay, now that Key closed the door. What is it about him that made Jinki feel strangely comfortable? Vampires were vile, disgusting, and they hate his kind so he hated all of them. Literally not once in his entire life has a Vampire treated him with kindness and on the rare occasion that they found out what he actually was, like tonight, they would try to hurt him badly. Key was the first Vampire that still treated him with respect even after finding out he was a half. Was Key purposely doing this so he could drink his blood? For some reason, Vampires got excited when they drank the blood of someone new and were extremely excited when they were allowed to drink blood that wasn't other Vampires, it was like trying a new flavor of ice cream. Jinki paced back and forth for a few moments; if he went in there would be two different results, one good and one bad. The good would be that he would get new clothes that actually fit him correctly and possibly even a warm place to spend the night for the first time in his entire life. The bad would be that he could go in and get attacked and drained of blood from someone that he thought he could potentially trust. Suddenly, the door opened again.
"Would you just come in already?" Key whined from the doorway. Jinki couldn't see him inside the house but he was already walking back into it, leaving the door wide open for him. It was as if Key could read his mind or something.
Jinki reluctantly walked forward and into the house. It was dark except for a light coming from the kitchen around the corner. Surprisingly, the house was
a lot
better than how it looked outside… it was actually sort of nice. There were pictures on the wall, plants in the corners, and accents on end tables. Jinki was surprised that someone could keep the inside of a house so nice but completely ignore the outside like they did.
"In here!" the familiar voice called from the kitchen.
Jinki walked around the corner to see Key standing in front of his table organized a stack of newspaper. His brows were furrowed down in concentration and Jinki couldn't help but feel a bit hot over how cute the boy looked with just about any facial expression he made. Jinki was confused about his feelings towards Key, since he's literally never felt anything more to a Vampire than just pure disgust.
"You can relax you know, I'll get my shirts in a second." Key said not looking up from his stack of papers.
"Are you gonna drink me?" Jinki asked bluntly.
Key giggle snorted, "If you want me to," he said with a wink. Jinki just shook his head and Key giggled once more. "Will you calm down? Sheesh, you don't have to be so tense."
Jinki was tense. This whole atmosphere was making him completely and utterly uncomfortable and he was beginning to think that if he just walked out the door Key wouldn't stop him. "S-Sorry." He stuttered out.
Sorry?
Jinki thought to himself.
I'm saying sorry to a Vampire?
Key shrugged to tell him it was fine. He looked up from his newspapers with glowing eyes, those eyes Jinki could probably stare at for days. "Sit sit sit!" He yelled at him as he opened a drawer in the kitchen pulling out a pair of scissors. "Gosh, I'll just do it now."
Jinki wanted to protest to him, the thought of owning
anything
by a Vampire made him want to puke, but he couldn't give up this offer. Key suddenly grabbed the hem of his light sweater and pulled it up over his head, doing the same to his shirt underneath it. Jinki practically fell over on the spot, he was just so
beautiful
for a Vampire. He had the generic pale, stone skin but somehow on him it worked, his stomach and chest were smooth, no muscles, and he was very lean. His nipples were pert, crinkled from the cold, and Jinki could see the hem of his underwear showing from above his skinny jeans.
Key walked over to Jinki, who tensed up even more by the sudden close distance, and held the shirt up to his back. "It's hard to measure with this hoodie, you should take it off." Key said so nonchalantly. Jinki gave him a wide eyed look, yeah right was he ever going to be shirtless with all his skin out in front of Vampire, vulnerable to an attack on just about
anywhere.
Subconsciously, he grabbed the bottom of his hoodie to hold it in place, as if Key was just going to rip it over his head, but Key saw this as he was going to take it off. "I thought I said sit!" He yelled, pointing to the chair in front of the table. Jinki was definitely not going to make himself comfortable here, everything about this situation was way too fishy. He shook his head no.
Key sighed out loud obnoxiously, "Do you want the shirt or not?" He asked meanly. Jinki just stared into his hypnotizing eyes not saying a word. "Fine," Key started, "I'll just do it by ear." He stomped away from Jinki, his pale back flashing like a sculpture practically as each muscle moved underneath the skin with grace, and made his way over to the table with the scissors in one hand and the shirt in the other. He laid it out over the table and started cutting in random spots where he guessed the shoulder blades would lie. Jinki watched his fingers work like magic, each one curled around in a different spot as they squeezed and stretched with each slice from the blade, his fingernails were cut to precision and were perfectly filed, something Vampires were not keen to know to have. His arms flexed with each cut, they seemed to move in slow motion to Jinki, who just noticed that he was staring whole heartedly at him with his mouth slightly agape.
"Can I ask you something?" Jinki asked.
"You just did." Key joked, looking up to wink at him again; Jinki shuddered a bit at the gesture.
He ignored the statement, "Why're you making a shirt for me?"
Key laughed out loud, "I don't know, because you don't have one?" Key smiled lightly, picking up the shirt, "There."
Jinki left it at that. If Key wasn't going to be persistent at a reason to be nice then he wasn't going to force anything out of him. The whole everything about this was so odd and new to Jinki, but he figured that if Key tried anything he'd be able to take him, Key was only a Vampire after all. Key walked over to him holding the shirt up, two holes freshly cut into the back of it. This time, Jinki didn't have to wait to be asked; he removed his hoodie slowly, letting his wings fold out from underneath it. It felt so good to let himself be completely free once again, and for the first time in his entire life, he let himself stretch his wings wide without being in fear of someone catching him; there was already someone standing here, but Jinki knew he wasn't going to do anything. As Jinki stretched his wings to the full extent for the second time that day, Key froze in his tracks; Jinki noticed how he reacted and couldn't hold back a smirk. Feeling a bit smug, he wanted to show off some more so he stretched a bit further, spreading each individual feature out; it was also the first time anyone has ever seen his wings up close like this.
"Y-you're" Key started but couldn't seem to finish. Jinki gave him a questioning look but Key just shook his head and quickly looked down; Jinki thought for a second if he didn't know he was a half but then laughed at himself, obviously he knew if he was making holes in his shirt for him. Jinki reached out and snatched the shirt from his hands not saying a word; he slipped the fabric over his head, it was a bit tight (actually a lot more than a bit) because Key was skinnier than him and it already fit
him
like spandex, but just like any shirt it just sat over his wings keeping them in snug in place. Key seemed to snap back into focus as he shuffled over quickly behind Jinki; he reached his hand into one of the holes and started pulling on his wings to squeeze them out through them. Jinki was being rocked back and forth as Key seemed to have trouble fitting the appendage through but after a few more pulls and tugs all the feathers slipped through with ease. Key did the same to the other wing, that one a little more easily after he knew which angle to pull it through with; when his work was done he took a step back from Jinki to observe his effort.
Jinki twitched and squirmed as if he was uncomfortable but truthfully, he was completely fine, even better actually, the shirt fit fine and the holes were cut in perfect place for not being measured. He's never worn a shirt while his wings also sat comfortably, and he certainly never had someone touch them, Key's hands were so soft and gentle even though they pulled with force. Key sighed behind him, Jinki turned to see him with a furrowed brow inspecting his work.
"You know, if you give me more time and materials, it could be a million times better." Key sighed.
"It's perfect." Jinki said aloud with a smile.
Wait, what am I saying?
Key blushed madly, he even covered his face with one of his hands, "That's far from true. Lemme try with another shirt, 'kay?"
Jinki just nodded largely before trying to turn his head over his shoulders to look at the work Key did. The younger boy started walking over to the next room where the stairs were but he stopped just before he reached the doorway, turning around slightly; Jinki couldn't help but look at the way his lean muscles stretched as his upper body moved with his lower half firm in place. "Jinki?"
Jinki made a noise of acknowledgement, trying again to make his head spin around like an owl to see his wings.
"What I was
trying
to say before was that…" Key stopped again, obviously nervous. "You're beautiful."
Jinki froze at the word. The word that no one has ever called him before. The word he's been trying to reach to his whole life.
Beautiful.
Part Two
A-N:
Part one is done! :O!
This will only be a few parts, probably like 3 at the most!
Still can't decide whether or not to have smut...... Please give me your opinions on it, so I could decide easier!