title:
Fallen Angels
pairing:
Onkey
rating:
NC-17
word count:
9,390
notes:
The year is 25,056. Seoul is nothing left but a desert wasteland. After all of the Earth's resources vanished, the weak humans developed into thirsty, blood sucking cannibals, feeding on the live ones. Their way of life turned into the largest underground society ever made, known as the Hebolgwi. (pronounced "Heh-bowl-gwee") To make sure these Vampires don't attack humans, the whole Earth is guarded by "Fallen Angels" which are quite literally, Angels from Heaven sent to protect the Earth. However, just because you are an Angel does not necessarily mean you are good. Lee Jinki is half Vampire, half Angel.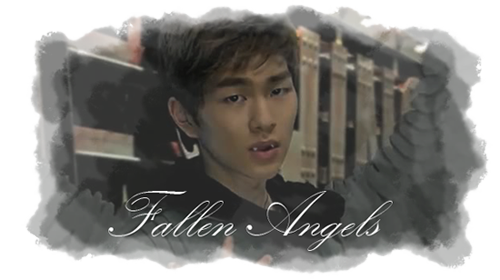 Jinki awoke a few hours later in a daze.
He sort of already forgot where he was and had to blankly stare around the dark room to remember; his eyes weren't fully adjusted to the blackness and it took a few seconds before his pupils dilated enough for him to recognize Key's bedroom. The blanket still wrapped around him like a mother would her child, it made him feel so comfortable that he never wanted to get up again and he even contemplated the idea of forever living his life in the safety of Key's room. He heard a shuffle from the kitchen then, Jinki looked out the open bedroom door and saw the faint light coming from around the corner and decided it would be best to get up and thank Key for letting him stay. He's never thanked anyone before, truly thanked them, frankly because no one has ever done anything nice enough to earn a real thanks. Key has though; Key has shown him what true kindness was, it only took this long for Jinki to finally earn it. He mentally thought of how easy it was for him to fall asleep, how unafraid he was that he was going to get secretly mauled by Vampires, how easy it was for him to trust Key not to do that. Reluctantly, he lifted the blanket off his body and felt the sudden chill of the air, sitting up straight he felt the tug of pressure from his wings and suddenly remembered why he laid down in the first place. Jinki stretched his appendages out, rolling his back in circular motions to test if his wings were properly healed yet. The verdict was good and Jinki was glad that all it took was a good rest for his body to heal itself properly, another benefit of being part Angel.
Jinki flung his feet over the side of the mattress and stood up with a groan; he placed his hands on the lower part of his hips and stretched his whole body out, feeling and hearing his joints cracking. When he was all done waking up, he slowly trudged out the bedroom door and into the little hallway, after that into the mud room where he could see Key sitting at his kitchen table reading a newspaper. His eyes once again drew him in with their cat like features but the thing that really got Jinki was Key's lips. They were moving with each word he read to himself and the movement hypnotized Jinki, the pointed tops dancing practically, the bottom round and pouty; a tongue poked out to lick and wet the corner leaving an invisible but shiny gloss. Jinki took a step forward and Key finally noticed him standing there.
"Morning, sleepy head," he said with a calm smile.
Jinki sweetly smiled back at him, rubbing the back of his head and messing up his hair. "Morning?" He jokingly asked, beings rarely used those terms anymore since there wasn't a legitimate clock to follow and there were no mornings, noons, and nights.
Key shrugged, "You've been out for a long time."
"Really?" Jinki asked, taking a seat next to Key, "How long?"
"I'd say a good five hours, maybe." Key set down his newspaper on the table, folding the crease neatly as to not mess up any of the other pages. "How are you?"
"Well, my wings feel fine," Jinki said rolling them in circles again, "But my head is foggy." Key reached out a hand and rubbed the side of Jinki's head; he brushed the hair out of his face in the motion and the touch sent a shiver down Jinki's spine.
"Do you need me to get you anything?" Key motherly asked.
Jinki shook his head no, leaning into the fingers that were now tenderly rubbing his temple, "What're you reading?"
Key jumped a little and removed his hand, much to Jinki's disapproval, "Oh well…" he seemed nervous in his voice, "I like to read old newspapers from the human ages."
"I didn't know those even existed." Jinki said inching closer.
Key seemed to perk up a little from Jinki not immediately thinking he was weird for keeping this stuff around the house, "I've actually got really good ones… Do you want to see?"
Jinki nodded enthusiastically, Key smiled brightly and stood to get his small tote bag in the corner that was stuffed with newspapers. "You would not believe the kind of stuff humans had to go through, so many murders and deaths, there were people dying all over the place!" He plopped the tote bag on the table with a loud
boom
, Jinki jumped a little at just how many Key owned. "They had so many problems compared to us! Floods, lost pets, jobs, and something called the 'funnies,' but I don't know what they're supposed to do because frankly, they aren't funny at all!" Jinki giggled a little at his excitement, "I mean, that 'Peanuts' guy seems pretty lost to me." Key began digging through the newspapers he had, his eyebrows furrowed just like how they were when he was working on Jinki's shirts and after about twenty seconds or so he let out an "Ah!" before digging his hand in and pulling out a thick stack and slamming it down in front of Jinki. "Eh? What'dya say? Pretty cool, huh?"
Jinki stared helplessly at the black and white print laid out before him, he had no idea how to read, much less even spell his own name for that matter. Jinki just nodded at the picture of what looked like a desert right after rain fall and stared; Key seemed a little disappointed in his reaction so he decided to press on. "Maybe you need a little update on your history lesson silly, it says 'Last gallon sucked dry,' this was the date when the Earth ran out of fresh water. Look how long ago it was!" Key pointed at the date, "March 16, 5076. This is 20,000 years old!"
"How is it not ruined?" Jinki asked, more amazed at the age of the paper than what was on the cover.
"I've got older!" Key dug his hand back into the tote and pulled out another paper; this one was just one page, the cover, unlike the other that was a full set, and this one was in english. "'Dewey defeats Truman,' November 3, 1948! You probably don't know this one because it's American, but this is probably one of the most famous newspaper covers from over there."
Jinki furrowed his brow, he didn't know what a 'Dewey' was, or what 'American' meant, but Key seemed really excited so he tried to hide his confusion. "You're right, I have no idea what that is but that's really old, Key!"
The younger boy smiled a little at the use of his name, "I have more,
tons
more; I could literally sit here all day and show you but…It gets pretty boring after a while,
even I
don't know half the stuff they talk about in here." Key started putting the papers back into his tote bag, "but this is where I try to learn."
"How come you want to?" Jinki asked, leaning forward and grabbing Key's hand to stop him from putting the paper back into the bag, he could literally sit here all day and listen to Key read to him.
"How come I want to learn?" Key asked, Jinki nodded. "Well, it would be horrible for the past to just disappear like how it is. Humans were so interesting and it's pretty sad to know that they'll be extinct soon; plus, it's fun to learn about them." Key turned his hand that was under Jinki's upside-down, Jinki's fingers laid lightly on the younger boy's soft palms.
"I wonder what humans look like." Jinki pondered, trying his hardest to ignore the fact that him and Key were almost holding hands.
"Pabo! I have pictures," Key said gesturing to the tote bag of newspapers, "they look just like us only more, I don't know, alive?"
"Pictures will never show you how a human
really
looks like! Plus, I don't know what alive even is, I've never seen it!" Jinki said, taking his hand back to make loud movements with them.
"Just look in the mirror, pabo!"
"Stop calling me pabo,
pabo
!" Jinki giggled out loud, "besides, I'm not alive, no one in Hebolgwi is."
"We die, don't we?" Key said, his tone more serious now.
"Sure but, it's different." Jinki said, leaning back gently on the chair, "We aren't needy like the humans, we don't need requirements to live." Key shot him a confused look. "Like, we don't need to eat, sleep, breath, drink water; those were the reasons for the human demise."
"Well,
you
don't have to do all those things but, I do. I still need to drink blood in order to live." Key said looking down at his lap. "Besides, there were countless things on Earth that didn't need to do all of that stuff and they were still considered 'alive.'"
"Like what?"
"Like plants, they were basically green things that grew from the ground and were eaten by other things," Key felt the need to explain after Jinki shot him a weird glance. "There were also germs, bacteria, viruses; all of those didn't need to sleep, drink water, whatever."
"Then how were they considered alive?"
"Basically because they moved, I guess?" Key shrugged, "It's hard to explain because we don't live in that time; that's basically the reason why all of the humans turned into us." He looked down at his lap more, fiddling his thumbs together, "Well, turned into
me
."
Jinki sighed at looked at the stack of newspapers on the table, "Can I confess something?"
Key perked up a little and looked at him, "Yeah."
"I don't know anything about the human demise or how Vampires came to be; I never had anyone to teach me this kind of stuff." Jinki was super close to confessing about how he couldn't read either, but felt a little too embarrassed and decided that would be best for another day.
"That makes sense," Key said with an eye smile, "Do you wanna learn?"
Jinki nodded and scooted his chair in closer. Key smiled to himself and then proceeded to start a history lesson with the older boy; he started when humans basically figured out how much water was on the Earth and how much time they had left. He went into how newer inventions were created to take the salt water and clean it into drinking water and how that eventually failed; how the dead fish in the water made everyone sick. It was hard for Jinki to learn because there were a lot of words and things he's never even heard of; animals, machines, terms, it all amazed him how Key knew pretty much everything. Jinki caught himself dazing off and thinking about how much Key loved the history of Earth and how much he just didn't care up until that point. Jinki his whole life had multiple other problems to deal with that he never wanted to learn anything that wouldn't automatically benefit him; who cares about the history of Seoul, or the English language, or
math
. The only thing that he would want to learn were better ways to hide, and smarter ways to avoid directly talking to people; but now that he didn't have to worry about this sort of stuff, now that he was in a building and directly talking to someone, he had time and energy to actually want to learn. Jinki was happy that Key was so willing to teach him, he was happy that Key knew exactly which newspaper to pull out that went along with what he was saying, happy that Key was happy.
When Key reached the part about how the Angels fell victim to their surroundings, Jinki was confused. His whole life he only thought of the Angels as being pure beings with no flaws except for the fact that they every now and then fall in love with a Vampire and make useless creatures like himself. He knew that a lot of Angels didn't perform their original duties and decided to live amongst the Vampires as equals, but he never really pondered more on it. It amazed Jinki how Key described the Angels, anything less than absolute perfection was a mean way to describe them but Key was talking as if they were the slum on street corners. "Don't get me wrong, they're beautiful, but…" Key made wild hand gestures when he spoke about them, and it made Jinki laugh about how Key not only hated Vampires, but Angels as well, but he loved everything about humans.
About twenty minutes after Key started is when he eventually reached modern day; newspapers were scattered pretty much everywhere and Jinki had a layer of sweat under his shirt. Key looked up at him, "Anything you're really confused at?"
"Everything."
Jinki jokingly said, running his fingers through his hair. He really didn't want to press on any further, he had already soaked up enough information as it was, but one thing stuck on his mind. "Do you really think there's
any
humans up there? It'd be nearly impossible for them to live anymore!"
Key shrugged, "I guess they find a way, just like us." He started cleaning up the scattered papers, "Besides, I think if there were completely gone, we'd know by now; word would have gotten around."
"How? No one goes up there."
Key shifted uncomfortably in his seat, "Some Vampires still do, they really
shouldn't
, but it's typical of them, no one expects anyone to obey rules in Hebolgwi."
"But I thought the Angels kept everyone inside."
"They
try
to but, most of them don't even care really; I mean, we both saw the same thing before, they really don't care what Vampires do unless they are
doing them."
Jinki sat there and thought about what Key said for a moment before he finally got it and started cracking up. Key seemed pleased that his little joke could make the older boy laugh and the openness between them made the atmosphere feel even more comfortable than it already was.
"Oh my gosh," Jinki said catching his breath, "It still amazes me that we actually saw that!"
"It was so gross! Her boobs were so-" Key stopped mid-sentence.
"So, what?" Jinki asked. Key just looked at him, trying to find the right words. "They were gross too!" Jinki said, cracking up again, saying the words Key seemed to lose.
Key let out the biggest smile and covered his mouth with his hand, "I didn't know you were…
like that."
"Like what?" Jinki asked.
"Like me, I guess?" Key looked down at his lap, super nervous over his next words, "Not attracted to girls?"
Jinki pondered this for a moment. He's never been attracted to anyone, and it was even dawning on him that he could possibly be attracted to Key. It didn't matter to him that Key was a boy really, although he never imagined himself with a boy, he also hardly imagined himself with a girl. Jinki just figured that he'd fall in love with a girl because that's how things worked, he really didn't know what to say to Key. "Well, I guess I am…I mean, I really don't know."
Key nodded his head and looked down, "You've never been close with anyone enough to figure it out."
Jinki was still amazed about how Key managed to know him when he didn't even know himself. "So how did you figure it out?"
"You really wanna hear?" Key asked, giving him a daring look.
Jinki got a little nervous at his tone but was still generally curious, "Of course."
Key sighed, "I was nine and me and my good friend Jonghyun were playing hide and go seek with a whole bunch of my other friends; we pretty much had all of Hebolgwi to hide in so when I say one game would last hours, I mean that literally. Me and Jonghyun ran off into the woods to hide and we were waiting there for a pretty long time and I don't even know how it happened, but suddenly…he asks me if I'm different. Even then I had no idea what the heck he was talking about but I took pride in standing out generally, so I told him I was." Key sighed again and closed his eyes for the memory, "Then he leaned in and kissed me. I was so, I don't know,
shocked
that I pushed him away and he started to cry. We didn't talk for a week but then when we saw each other again, he told me that he was sorry. So time went on like normal and then we found ourselves alone once again…he got that same look on him and I could tell what he wanted to do but I didn't want to lose him as a friend so I just let him kiss me again. Jjong was always an eager type though so he…" Key seemed to trail off in his thought, a little embarrassed to admit just exactly what happened. "He pulled off my pants and touched me."
Jinki nodded at this to himself, unsure of how to react. "I just let him do it; I was too young and scared to get aroused or anything, but I was also sad that I was losing him as a friend, anyway! I was also too young to know at the time whether or not I only liked boys but I still had a pretty good idea," Key straightened up in his chair. "So, life went on like that; me and Jonghyun would hang out and he would touch me or I would touch him, for about four years." Jinki's eyes widened at how long their relationship lasted. "When we got older, we umm…well,
you know."
Jinki shook his head, he really didn't know what the heck he was talking about; Key sighed dramatically. "We started getting you know whats," he rolled his eyes when Jinki still shook his head, "boners!" Jinki nodded to Key's obscenity. Key let out an "Ugh!" before continuing, "We started doing
other
things than just experimentally touching each other; I still remember the first time he gave me a full hand job, I thought I practically saw stars."
Jinki looked away at the awkward topic Key was getting into; he's never even hugged someone before yesterday, and Key was talking about things way beyond him.
"But, when we turned thirteen, everything just changed in him; I really don't know what it was. We started seeing each other less and less, and then eventually I saw him with a pretty little Vampire girl and I just…" Key looked down at his lap again, his lip starting to tremble, "I guess I just lost it. I thought he cared about me a lot but, looking back I realized I was just stupid. I was so young, how the Hell would I ever know what love truly feels like." He huffed a little to himself, Jinki could tell he was fighting back tears.
"Well," Jinki started, "I mean, I'm not really one to talk but age shouldn't be a factor; just because you were young doesn't mean you didn't love him. If you
felt
like you loved him then who is to say that you actually didn't? How can you tell the difference?"
Key wasn't fighting it anymore, tears started slowly rolling down his cheeks, "Wow Jinki, you know more about this stuff than I do."
"That wrong but, I watch people a lot." Jinki said with a slight smile.
"To be honest," Key said, "For a while I really
did
think it was real love, I truly believed everything you just said but…I figured out recently that it wasn't real love. I know what that is now."
"How?"
"You just
know."
Key said, looking straight into Jinki's eyes. When Jinki wasn't smiling, his eyes were normal sized, still a bit droopy on the top but nothing really special. Jinki didn't even feel uncomfortable at their never ending eye contact; it was actually sort of intriguing to be able to stare into another person without any strange feelings at all.
Key wiped the tears from his cheek, "I'm feeling a bit strange so I'm just going to go lay down for a bit." The younger boy stood and walked slowly out of the room, lingering slightly at the doorway, without another word towards his bedroom which Jinki slept in for five hours.
Jinki felt bad for Key; he asked him to reveal something very personal about his past and talking about it got him so flustered he actually had to leave the room. Jinki also felt bad for what that boy Jonghyun put him through, but he was still strangely jealous of him. Jinki was jealous over the fact that Key got to feel the amazingness of love, even if it did come with the lonely solitude of heartbreak; Jinki would still risk that to feel the ultimate emotion that everyone craves. And that is exactly the one emotion no one has shown him or he has shown others: love. Although, as he was getting closer to Key, he couldn't help but feel as if these emotions that were starting were love; whether they be love as a friend or something more, it was love in general and Jinki has never loved another being. It was all so new and exciting for him and yet he still managed to act normal about it; normally Jinki would think that someone who has never loved before would be all over the other person, but he found himself strangely calm. He found himself wanting to be near Key at all times, but not throwing himself at him; although the thought has crossed his mind more than once. Jinki heard a small noise, sounding like a very faint word coming from the room and he pondered about whether or not to see if Key needed him for something; he stood and started walking towards the door, figuring that since Key helped him in his time of need, he would help him as well.
When he reached the bedroom door, he found Key laying on the edge of the bed under the covers; his face was still sticking out and Jinki could see the reflection of tears that were still on his cheeks. "I didn't think you heard me," Key said, flattening the top of the blanket so he could see Jinki.
"Do you need something?" Jinki asked, leaning against the doorframe casually.
"No I'm just…" Key hide half his face in the covers, embarrassed, "I'm just a bit lonely already."
Jinki still felt bad for him and suddenly realized the kind of situation he was in. Key is living alone in this empty house that is in an abandoned spot in Hebolgwi; he could imagine the amount of nights he spent right here in this bed in complete solitude with no one to talk to. He was still upset that he hasn't been liked or loved by anyone since he was thirteen when he was brutally forgotten about and Jinki was his only real friend. Jinki suddenly realized that Key needed him just as much as he needed Key.
The older boy stepped forward and slowly climbed into bed with the younger; he walked on all fours until he was level with Key and he plopped down with his head next to him. "Hyung~, get under the covers," Key purred at him, lifting the blanket up so Jinki could slide in underneath it. After the older boy settled in, he realized that the blanket definitely wasn't big enough for two people and they were very close to each other. Key didn't seem to mind though, as he closed his eyes and put a faint smile on his lips, "Sometimes, when I would feel super vulnerable, I would just lay in this bed and listen."
"Listen to what?" Jinki asked, a little confused, considering they were completely alone for a long distance.
"Just listen," Key said. Jinki held his breath, he really did try to hear something, but all he could hear was Key's heartbeat that was closer than ever to him.
"I don't hear anything," Jinki said disappointed.
"Exactly!" Key smiled at him, snuggling in a bit more to the older man. Jinki smiled at him too, it was nice not hearing anything for once; after he's lived in the city his whole life, silence was definitely a privilege.
"Key? Can I ask you something?" Jinki asked, he waited for Key to nod at him, he then shifted his weight so he was leaning on his left forearm looking down at the younger boy underneath him, his left hand supporting his head. "Why are you so nice to me?" He wanted to hear Key admit that he needed him, he wanted to be wanted by someone else, and it would feel so much sweeter if that someone actually said it.
Key wouldn't give in that easily though, "Why wouldn't I be?"
Jinki shifted a little, "Because
no one else is."
"I guess you couldn't tell yet, I'm unlike anyone else!" Key lifted his arm to salute to Jinki who in return rolled his eyes.
"I'm being serious, Key."
"You want the truth?" Key asked, looking straight into Jinki's eyes who nodded back at him, "When I saw you at the bus stop, I knew you were different somehow; I knew you were special to me, I was nervous so I came up with any old excuse to talk to you and I think I mentioned the pick up or something? But when you weren't interested I was kind of upset so I followed you to the other corner and
once again
you walked away, I was pretty mad so I followed you but then when I saw you unfold your wings I was so…" Key pulled the blanket in closer to him, "I was so speechless! I just stared at you for what felt like a year until those stupid bullies showed up." Jinki chuckled a little at the memory of the three Vampires who wanted to kill him. "I can't imagine what it's like to have wings, especially ones like yours. I mean sure, Vampires can be cool, we suck blood and stuff like that and then you have Angels who can fly and whatnot but you…you have both of those things! You have all the benefits of a Vampire
and
an Angel, I honestly have no idea why anyone would want to hurt you. You're
so much better
than all of us, better than anyone else who lives in Hebolgwi. If there were more beings like you, you could literally take over the entire society if you wanted to; so I don't know why you try to hide, Jinki. I know all the others have died but, you could be the one who doesn't. You could be the one who stands up and says that yeah, you're different, but you're damn proud of it! I could help you too, you know; we can make this place better if we really wanted to! I know you don't want to hear it but…you're beautiful Jinki. Inside and out. You've got that
amazing
smile but then when you look past it, you're just like a sad, lost, little kid still figuring out so much in the world! That makes you a beautiful person, Jinki, you're unlike anyone else, you don't know as much as anyone else; you don't know most of the bad things that go on, you don't know how Vampires or Angels can truly be when you get close to them. I…I really wish I was more like you; it's hard going through your day-to-day being something that you hate and wishing that you could be someone else. I'm just sick of wanting like this, I'm sick of living my life this way! I just wish I could be more beautiful like-"
Jinki didn't let him finish his sentence. It was almost too much for him to bear. The emotions that Key preyed through him were unlike any other and before you knew it…Jinki found his lips locked onto Key's.
He kept them there for about a moment or two before he slowly pulled away, reopening his eyes slowly to look at Key's who were wide open in shock. "Y-You." Key finished his previous sentence, his body completely frozen. Jinki felt a tad bit awkward suddenly, like as if Key didn't want him to actually kiss him so he pulled away a little before he felt Key's lips reaching up and connecting with his once again. Key only pecked him, the position of his neck raised being a little uncomfortable, before he plopped his head down against the pillow, "Kiss me, Jinki," he purred again at the older boy, who wasted no time diving his head back down to meet Key's lips once more. The sensation was so overwhelming to him, who knew that something as simple as kissing could send his mind into a spiral; their lips met and released and met and released over and over. It was nearly too much for the older boy to bear so he released them completely and dove his face into the crease of Key's neck, letting out a giant sigh into the pillow and pale skin beneath him.
"Jinki…" Key whined, before reaching his arm over and grabbing the edge of Jinki's shirt near his waist to pull him in closer. Jinki complied and moved the lower half of his body so that a knee rested on either side of Key's waist, and the older boy rested his body against the younger, their crotches touching behind their jeans. Jinki could still feel the slight sensation that came with it though, no matter how many pairs of jeans were between them, and he couldn't help but want to feel more of it. He kissed the nook of Key's neck slightly, the younger boy twitching just a little beneath him; Key grabbed the back of Jinki's head lightly, pulling him up so that their faces were close again. Key leaned his jaw up and kissed Jinki once more, this time pointing his little pink tongues between his own lips, poking Jinki's slightly; Jinki had a mini panic attack, he had absolutely no idea how to kiss like that but he never
ever
wanted this moment to end, so he opened up his lips and let Key inside. The younger boy wasted no time finding Jinki's tongue in his mouth and rubbing against it with his own, Jinki couldn't help moan aloud and he felt Key smile in his kiss. Key pulled away for a moment and let out a sigh, before diving right back into the half's plump lips, rubbing his tongue gently on Jinki's and tightening his grip in the older's hair as he felt his pants slowly start to tighten.
Jinki felt pretty awkward with the kissing, he was completely inexperienced with
everything
and Key was most definitely doing all the work. His own tongue kind of just sat there in his mouth, being well overpowered by the extremely talented one that danced with it. Jinki repositioned his arms so that they sat comfortably beneath the pillow that was under Key's head; subconsciously Jinki pushed Key's head further up and Key took that as a sign to deepen the kiss, which he did. Key's tongue began to explore every part of Jinki's mouth, rubbing against his palate and biting his lower lip slightly, the older moaning once again. Jinki felt so good that he wondered why he and Key didn't start kissing the minute they met, then he suddenly realized that his cock was already half hard and Key could most definitely feel it. Key's hands moved from lying still on his side to slowly running his fingers up Jinki's back under his shirt, just like before when he was helping to remove his shirt in the kitchen but this time it was a million times more intimate. Jinki breathed deeply into Key's mouth, and the younger boy loved the reactions he was getting from the other; Key felt as if he wanted to do nothing more than to give Jinki the pleasure he's never had before.
Key's mouth left Jinki's and started exploring down his cheek over to his ear, Key licked the underside of his lobe and gave it a slight suck, Jinki cried out a tiny bit. Key continued to mouth at his ear, sticking his tongue into the crevices and lapping at them, Jinki's head lowering more and more as the pleasure headed straight south, Key taking pride over what he was doing. He continued down his neck, leaving light kisses and sucking his skin hard until he reached his collarbones; Key's head was at an uncomfortable position but he still managed to suck and lap at Jinki's protruding bones. Jinki felt this less pleasuring than his ears and obviously his mouth, and it sort of amazed him how even he didn't even know what he liked to be touched on his own body, and Key was helping him discover this. Key let his head fall back onto the pillow and looked up at Jinki, a slight smirk on his perfect lips; Jinki leaned down again and kissed them. This time, Jinki wanted to test his own abilities; he stuck his tongue out into the already open mouth that was waiting for him. He let his organ sloppily play around with Key's, Jinki was all over the place simply because he didn't know what he was doing, but the intensity of the kiss made it seem extremely dirty and he could feel Key's boner increasing. Key couldn't help himself any longer and he bucked up once slowly into Jinki's crotch; instantly Jinki had to let go of Key's mouth to let out an "Ah~"
Key smirked once more, and bucked up again with a little more force; his arms went from Jinki's back to his waist, clutching it tightly as the pleasure overwhelmed him just as much. "More?" He asked the older boy, not sure of just how far he was willing to go.
Jinki could only nod, the feeling Key was giving him already was way too much for him to handle and he couldn't imagine what else Key could possibly do. Key pushed Jinki's shoulder back so that the older boy had to sit upright on his knees (or more so on Key's crotch) as the younger boy pulled off his own shirt and threw it across the room. Jinki examined the smooth body beneath him, he saw it just before but it was now sweaty and tense and in a completely different light. Key's hands went immediately to the edges of Jinki's shirt and pulled it up over his abs, "It's not as easy," Jinki joked, giving Key his eye smile. Key giggled aloud before sitting upright, their bare stomachs touching, and moved his arms to Jinki's back, pulling up his shirt until it bunched up at his wings.
"Okay, you pull the front and I'll get the back," Key said. Jinki pulled the hem of his shirt up over his head and Key magically pulled the rest of his shirt over his wings, Jinki guessed that after doing it two times before that he was a pro now. Jinki felt suddenly revealed, unlike before where it had a 'who cares' feeling, now being shirtless with Key made his body twitch. Key laid back down with a plop and let his hands immediately start roaming Jinki's stomach; his fingers moved so lightly over his smooth skin and his polished nails scratched ever-so slightly here or there. Jinki couldn't take the slow torture, but just bit his lip and moaned aloud; Key let a finger reach one of his nipples and tweaked it a bit. Jinki convulsed, letting out a high pitched noise that even Key couldn't identify as being an actual word. Key used his other hand to reach up to pinch the other nipple, Jinki's hands immediately latching on top of Key's and pulling him away for a moment, the pleasure was too much for that second and the older boy could feel himself being fully erect at this point. Jinki let go of Key and like a big tease he is, Key immediately put both his hands back on Jinki's nipples and squeezed tight.
"Ow!" Jinki complained, leaning back so he was out of Key's reach, a smile spread across his lips.
Key let out a breath of laugh, sitting straight up so that their stomachs were once again rubbing against each other, Key placed both of his hands on Jinki's lower back and leaned his head down to his nipples. Key poked his tongue out on the skin right outside of Jinki's nipple and liked up to his collarbone, Jinki's head falling back when he reached the top. Key moved back down again and instantly poked his tongue out to lap at Jinki's pert nipple, Jinki thought he practically saw stars it was so good. Key lapped, sucked, and bit at him like he was his own personal lollipop, until eventually he worked his tongue across Jinki's chest and did the same abuse to his other nipple. Jinki's hands found their way to Key's red and black hair and started running through his smooth locks, gripping onto the hair close to his head as Key's magical tongue continued to work him over.
Key gave his chest one last kiss before leaning his head up to kiss Jinki's mouth, once again taking control and keeping the kiss passionate instead of lustful; he threw his arms over Jinki's neck and pulled him down with him until they both landed hard on the bed again. Key took his arms and started pushing on Jinki's thighs that were still resting on either side of him, he quickly said, "move," into their kiss before Jinki got the hint to shift. The older man leaned back a bit, scooting his legs down so they weren't by Key's waist by now outside of his hips, reluctant to let go of their kiss to do this; like a ninja, Key pulled his legs out from under Jinki and rested them on the outside of Jinki's hips, curling so his feet nearly touched behind his back.
Jinki couldn't help but moan aloud, dropping his body back down against Key and kissing him roughly; their current position was nearly too much for the older boy and he didn't know how long he'd be able to stay like this before he came in his pants. Key's fingers danced along Jinki's sides, his moans now finally starting to escape his mouth as he felt Jinki's rock hard member sit on his straight through their two pairs of jeans. His fingers found their way down to the hem of Jinki's pants and he stuck one finger in the top, just as a tease; Jinki released their kiss and let out an "Ahh~." Key didn't even have to do anything but it was nearly sending Jinki over the edge; Jinki lifted his hips up a bit from Key's so the younger boy could reach his hand between them. With one hand, Key managed to unbutton and unzip both himself and Jinki's pants, the older keeping his eyes permanently locked on his fingers while Key's eyes stared at the top of Jinki's head facing him. Once both were open, Key let his hands fall to his sides again, limp; Jinki continued to stare at his open pants, as if waiting for key to continue. Confused, Jinki looked up at Key's face that was completely expressionless except for his eyes, which held some sort of emotion Jinki could not fathom.
"What now?" Jinki asked, feeling like a child not knowing what to do next.
"Whatever you want Jinki," Key said, "I'm not going to push you into doing something more if you don't want to, I've already brought you this far."
Jinki giggled and leaned down until his lips were hovering right above Key's, "I'm the one who kissed you, remember?" He slowly led into their kiss, no tongue, but just pure passion sweeping throughout them. Jinki started to work his pants off, which was rather difficult in their position, but managed to get them off completely, never once letting go of Key's lips. He used both hands to remove Key's pants which were much easier than his own, Key helping him by kicking them off when they reached down to his ankles. Jinki was scared to let his fully erect member touch Key's when the only thing between them were underwear, but Key once again placed his hands on Jinki's hips and pulled him closer.
"Ah~ K-Key," Jinki whined once his dick hit Key's, his eyes instantly shutting tightly, his brain focusing not to cum yet, because he was practically waiting to burst any moment. Jinki placed both his hands on either side of Key's head and looked down; Key's fingers were slowly working down him towards his underwear. The younger boy grabbed the hem line and pulled it out a tiny bit, Jinki was waiting for him to continue with absolute anticipation but realized that Key wanted his permission first. Jinki could only nod and licked his lips, his mouth was drying from his nervousness, and he was terribly afraid to show his manhood to anyone, he was near positive even his mother didn't see it when he was younger.
Key pulled his underwear down slowly, the hem sliding down Jinki's long scrotum, his huge erection folding out from under it. Jinki could only stare
at himself, slightly embarrassed but too frozen to say or do anything about it, until Key let out a sigh. Jinki looked up at him, Key was staring at his dick, his mouth hung open a bit, eyes widened. "J-Jinki…" He breathed out, just as frozen as the other boy was.
Jinki felt nervous once again, "W-what?" He was scared that Key was going to call him gross, or deformed, or any other name he imagined for himself in his head. Key was just amazed at how well-endowed Jinki was, his dick long and the width fat, it was certainly one unlike Key has ever thought of before. The younger boy leaned up to kiss Jinki hard on the mouth, more turned on that Jinki was keeping this in his pants at all times, and he pulled his underwear down to his knees. Jinki kicked them all the way off, feeling more exposed than ever but not thinking on it too long because Key's tongue was once again doing magic inside his mouth. Key pulled his underwear off underneath him, his mouth still connected to Jinki's, the older boy desperately tried to get a glimpse down at Key's cock but the younger wouldn't stop kissing him so Jinki gave up. He also desperately made sure that his pelvis didn't lean down in any way or his dick would touch Key's now exposed one or any other part of his body which was still wrapped around him.
Key's hands immediately found Jinki's stomach again, which lurched at the touch; the younger boy ran them down until they met with the tuffs of pubic hair. His fingers brushed against Jinki's scrotum and the older boy instantly let go of the kiss and looked down at the long, slender fingers that were about to work him over. Jinki couldn't help but see how different in size they were when it comes to penises, Key's was shorter, more slender, and curved up more; it rested against his stomach. Key rubbed one finger on Jinki's cock again, and the older boy had to grab his hand where it was, "Don't, I'll-" Jinki cut himself off, trying to concentrate not to cum.
Key giggled, "It's that easy?" He teased, a smile playing across his perfect face. Jinki half smiled at him, ashamed that it
was
that easy, but it only is because of Key, and looked down a bit ashamed.
Key removed his hand from under Jinki's tight grip and placed it on top of the older boy's hand which was now resting on his scrotum; slowly, Key pushed his and Jinki's hand down, his dick going with it, until the tip of it touched Key's butt cheek. Jinki gasped and looked back at Key; his face was completely serious, no more smiles, no more teasing, he was asking for Jinki.
Jinki didn't know what to do, if he should continue their excursion, or to just back out; truthfully, he was only concentrating on not cumming yet and he never really thought of just how far he was willing to take this. Key once again, pushed on Jinki's hand and pushed the tip of his cock harder into his cheek; the older boy had to clench his eyes shut, just this small contact was so much more amazing than he has ever thought of. Key liked the reaction he was getting, so he slowly pushed his dickhead over to his awaiting hole and touched it for a second; Jinki freaked.
The older boy pulled back instantly, Key losing his grip, and Jinki ran a hand through his hair in frustration; he wasn't sure what he wanted to say to the younger, but Key found his words first.
"We don't have to if you don't-"
"I do." Jinki confirmed. He wasn't sure just exactly what he was saying, he was agreeing to this, but his erection and lust filled body seemed to speak for him. Key nodded back at him and lifted his hips up more into Jinki's lap, presenting himself to the older boy. Jinki sighed and grabbed his own cock, he knew that if they were to do this he wouldn't last long at all, hell- just thinking about it was about to set him over the edge. The older boy inched closer to Key's totally unprepared hole and froze; he placed his free hand next to Key's head, Key's hands working their way back to Jinki's hips for support. The older boy closed his eyes tightly before placing his head at Key's hole once again, the feeling overwhelming him completely, and his brain was spinning. If someone were to ask Jinki three days ago if he would ever have sex with a Vampire boy he would laugh out loud, but now he found himself in this situation. Strangely though, he trusted Key, more than he has with anyone in his entire life- frankly he's never trusted anyone before. He felt completely comfortable with Key though, he made him feel like an actual being, not some creature that anyone would kill if they actually got a chance to. His emotions and his feelings were an absolute roller coaster the past day, and he loved every second of it.
Slowly, Jinki pushed his head into Key's tight hole, the younger boy sighed aloud and closed his eyes tight. Jinki felt like he was flying practically, and out of instinct he slowly pushed himself in deeper, wanting nothing more than to have his cock fully engulfed by the younger boy. Key kept silent as his hole was being filled, it was painful but 100% worth it, even though Jinki was large, he wasn't too far into him; Jinki's hand next to his head grabbed a fistful of sheets and held it so tight his veins were starting to pop out. Jinki pushed unil he was about halfway through, his cock swelling even more over the feeling, and he couldn't help but let out a long, drawn out moan. Key shifted his hips, he was uncomfortable but didn't want this to end, he gripped Jinki's hips tighter and pulled him closer just a bit more. Jinki sighed lowly, throwing his head back to focus better; he wasn't sure how he was going to prevent himself from cumming immediately because he already felt himself brewing. He never took into consideration that after years and years of never having sex and hardly ever masturbating that when he would get such a sensation around his manhood that he wouldn't be able to control it.
Key didn't seem to want to wait so he slowly pushed his hips up off the bed and more onto Jinki's dick, "W-wait-" Jinki managed to get out. Key froze, knowing that Jinki was about to cum again and that he was constantly on the edge; so he smirked up at him instead, sweat beads forming on his forehead. Jinki was still stuck clutching the base of his cock, his other hand busy with the sheets, and subconsciously his body was inching down further and further closer to Key. Key moved his hands from Jinki's waist to behind his neck and pulled his face down so he could kiss him again, putting his tongue in instantly; Jinki seemed to get lost in his lips once again and his whole world escaped him. Being in this boy and having some of Key in him was too surreal for Jinki, his mind didn't dwell on it too long though. Key pulled away first and Jinki slowly opened his eyes to look at him, the younger boy gave him a small nod and closed his eyes, lifting his chin up a tiny bit to signal to Jinki to just do whatever he wanted. Jinki couldn't ignore this type of request; he took his hand that was around his cock and placed it on the other side of Key's head, settling down so that his whole stomach was on Key's and he could feel his smaller cock hard between them. Jinki pulled out a tiny bit and slid himself back in to its original spot, his eyes rolled up and his tongue poked out to lick his lips. It was good,
so good
. Better than he could have ever imagined.
He kept up the small pace, with this timing he could control when he would cum and Key seemed to like it anyway. The younger boy was letting small whimpers and gasps escape his lips as Jinki continued to brush against his prostate over and over, he wanted Jinki to go faster but he didn't want to rush him into anything.
Key reached his hand between their stomachs, Jinki lifting his up a bit so his hand could fit, and grasped his erection and started pumping it at a faster pace than Jinki's thrusts. The older boy saw the pace and wanted to match it but was a little scared that it could be too much; he decided to anyway. Naturally, Jinki pushed himself in further, causing Key to moan louder and pump himself faster, Jinki hitting his prostate even more than before. It wasn't long before Key was breathing at a rapid pace, his stomach clenching so much his abs that were nonexistent before were popping out, his eyes shut, and his teeth were biting his bottom lip too hard- his fangs causing little holes that were red. "Oh God, you're so beautiful, Jinki." Key said, causing the older man to push harder.
In only a few pumps more, Key came all over himself and even some on Jinki- the older boy instantly pulled out of him at the sight- and rubbed himself at a slowing pace, riding out his orgasm. Key sighed aloud and didn't open his eyes; his orgasm was quiet, content, and Jinki could see it shook throughout his whole body. Key's breathing slowly went back down to normal and he looked up at the frozen Jinki, "I guess I wanted it more than you," he breathed out in a cocky matter. Jinki felt his cock twitch at the thought of Key cumming first and wanting him more than he could want Key right now, which seemed nearly impossible. The younger boy lifted his hips up to present himself to Jinki once again, the older instantly placing his head back at the entrance once again. "Don't hold back." Key told him.
Jinki looked down and was slightly shocked at how Key knew that he was holding back, Key could read him like such a book. Jinki knew Key wasn't playing around, he shoved his whole dick into him and started humping at fast pace- Key's face scrunched up in pain but Jinki wasn't able to stop now. His wings even seemed to have a mind of their own and started flapping wildly, sending the whole room in disaray; knocking everything over that wasn't stable in Key's room. He instantly felt his orgasm brewing, his head was literally dripping sweat onto Key, and his hands never held onto something so tightly before as the sheets near Key's head. "K-Key, I'm-" He couldn't even get it out, he felt his whole lower half building up, every muscle in his body was starting to tense, his arms, abs, neck; it's like every little part of his whole body knew that something big was about to happen.
"Jinki-" Key said aloud, hearing his name fall from the younger boy made Jinki want to explode. "J-Jinki," Key began again, grabbing both of Jinki's forearms. "Bite me."
"Wh-what?" Jinki said, looking straight into Key's eyes, which seemed to have glistened over with some sort of maniacal plan.
"Bite me. Please." Key said again, lifting his chin up so his neck was fully exposed to Jinki.
It looked so delicious to Jinki, he wanted nothing more than to indulge in it but he knew it would only mean chaos. However, as his orgasm was nearly tipping over the edge, his judgment skills went with it- the pure adrenaline and pleasure that was seeping into him made him stupid, weak, and wanting more.
Jinki leaned down and exposed his longer-than-normal fangs and slid them easily into Key's neck, sucking out the blood in it. And as he came hard into Key's body, the two immaculate pleasures he was experiencing for the first time overwhelmed him and sent him into a state of unconscious.
The last thing he remembered, was Key crying out in pain.
Part Four>>
Part Two
A-N:
Woot! Should be one part left if everything goes according to plan.
I really don't know know what else to write here.... きもちい~!!